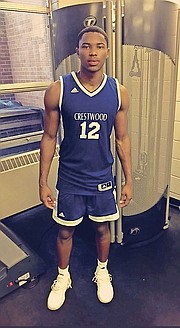 Franco Miller
#By RENALDO DORSETT
#Tribune Sports Reporter
#rdorsett@tribunemedia.net
#FRANCO Miller continues to bolster his recruiting stock in his lone season of prep basketball with the Crestwood Prep Academy Lions.
#Miller opened up session two of the The National Preparatory Association's Prep League yesterday with a game-high 30 points in the Lions' 111-88 win over Beast Basketball.
#The tournament which began yesterday continues through January 6 and is hosted at the Lions' campus in Toronto, Canada.
#The Vice Principal and Director of Athletics at Crestwood Prep, Lisa Newton, said northpolehoops.com is a vital platform to showcase prep basketball in the country.
#"Crestwood is excited to be hosting the NPA New Year Challenge this January 3-6, 2018. We are thrilled to have so many elite Canadian basketball players coming to Crestwood to show their talents and participate in some great basketball.
#"We hope many people will come join us at Crestwood to watch and celebrate these excellent high school athletes," said Newton.
#Players on the competing post-grad prep programmes bye for opportunities at receiving scholarship offers from various NCAA, USports and Junior College programmes.
#NCAA Division I programmes at the event include Purdue, Illinois, VCU, Toledo, SMU, Rhode Island, Kansas State, Jacksonville State, Canisius and Central Michigan. Local Canadian teams from U Sports programs include the University of Toronto, Brock, McMaster, Queen's, Guelph and Western and George Brown from the Canadian Collegiate Athletic Association. The National junior college champions Hutchinson complete the list of programmes scouting players.
#Miller, a highly sought after recruit for the class of 2018, is spending this season at the prep school in Toronto, Canada before he makes the leap and has made an immediate impact since the first preseason tournament.
#Miller averaged over 20 points per game and led Crestwood to a 3-1 finish at the Father Henry Carr Early Bird Classic in November.
#The 6'2″ guard spent much of the summer playing under coach Ro Russell for the Grass Roots Elite Club where his performance on the AAU circuit garnered offers from several Division I programmes.
#Russell was hired to head the programme at Crestwood in 2016 and Miller followed suit.
#Crestwood makes its transition this year into the National Preparatory Association for the 2017-18 season.
#The programme will be tested right away as Crestwood will be competing in the Southeast Division against powerhouse programmes such as St Michael's College, Toronto Basketball Academy, and Central Tech Prep.
#Miller's play on the AAU circuit last summer has attracted official offers from Montana State University, the University of Wyoming, St Bonaventure University and the University of Illinois at Chicago. There are also several other programmes that have expressed interest.
#His most noteworthy performance came at the Fab 48 Invitational in Las Vegas, Nevada, in July where he averaged over 20 points per game with Russell's Grass Roots Elite Club.