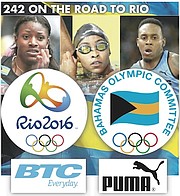 #TODAY, in our feature on the Bahamas Olympic Committee's Road to Rio, Brazil, for the 2016 Olympic Games, we take a look back at some of the pioneers of the sport.
#The spotlight first falls on Frank Rutherford, who made history by winning the country's first Olympic and World Athletics Championships medals.
#Frank Garfield Rutherford Jr MBE was born November 23, 1964, and competed in three Olympic Games as a triple jumper. When he won a bronze medal in Barcelona in 1992, he became the first Bahamian to win a track and field Olympic medal.
#He now runs a programme which prepares young Bahamian students to play college basketball and American football in the United States. He was a four-time participant at the World Athletics Championships.
#Rutherford attended the University of Houston, where he received Bachelor of Science degrees in Economics and Computer Science. He became the first Bahamian to win more than three NCAA triple jump championships.
#Rutherford won the Bahamas its first World Championship medal with a bronze in the 1987 IAAF World Indoor Championships.
#Rutherford was the US Indoor Track and Field champion in the triple jump in 1991 and still currently holds the triple jump record for the University of Houston. He followed that with winning a silver medal at the 1992 World Cup in Havana, Cuba. His personal best was 17.41 metres, a Bahamian record that has later been beaten by Leevan Sands.
#Rutherford is considered the Olympic pioneer in the Bahamas because he was the first to win medals at the Olympic and World Championship levels. He is considered the Father of Track and Field in the Bahamas.
#Rutherford now lives in Houston, Texas with his family, He operates the Mega Malt Elite Programme, which has assisted a number of Bahamian student athletes from throughout the country to excel, not just in track and field, but also basketball and football.
#• The Tribune is following Team Bahamas in the build up to the Olympic Games in Rio de Janeiro and will be reporting from Brazil this summer. The '242 on the Road to Rio series' will appear every Monday and Thursday. Comments and responses to bstubbs@tribunemedia.net