Freedom Farm Brings Home The Bronze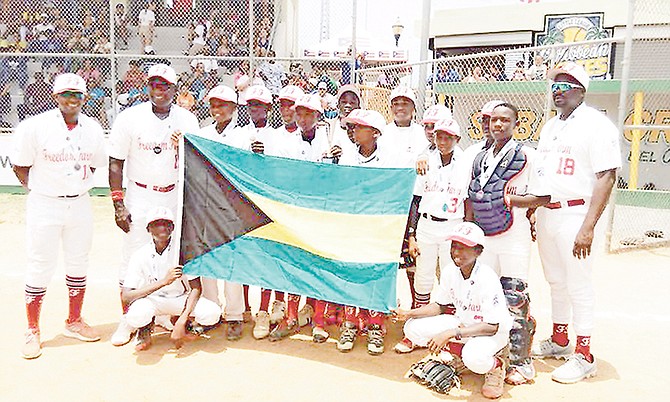 MAKING HISTORY: Freedom Farm Baseball League claimed the bronze with a 6-1 win over Aruba at the Caribbean Regional Qualifier for the Little League World Series in Sabana Grande, Puerto Rico
#By RENALDO DORSETT
#Tribune Sports Reporter
#rdorsett@tribunemedia.net
#FREEDOM Farm Baseball League closed out competition at the Caribbean Regional Qualifier for the Little League World Series with an historic finish for the Bahamas.
#The team claimed the bronze medal at the event with a 6-1 win over Aruba at the tournament in Sabana Grande, Puerto Rico.
#Participating teams in the event included defending Caribbean champions Los Bravos de Pontezuela (Santiago, Dominican Republic), Aruba Center (Santa Cruz, Aruba), Pabao (Willemstad, Curacao), Radames Lopez (Guayama, Puerto Rico A), Gino Vega (Sabana Grande, Puerto Rico B) and District 1 (St. Thomas, US Virgin Islands).
#Radames Lopez won the tournament 5-2 over Pabao and will represent the Caribbean at the Little League World Series August 16-26 in Williamsport, Pennsylvania.
#They completed the tournament undefeated at 8-0. It will be the first time a Puerto Rican side has represented the region in the event since 2014.
#After opening the tournament with three consecutive wins, the Bahamas suffered a four-game losing streak.
#In game one, Freedom Farm defeated Los Bravos de Pontezuela from the Dominican Republic 3-2 and followed with a 10-3 win over Gino Vega LL. They improved to 3-0 with a dominant 13-2 win over District 1 LL of the US Virgin Islands.
#However, they suffered their first loss of the tournament in their earlier meeting against Radames Lopez LL 7-4 in the first game of a double header, followed by a 10-9 loss to Pabao.
#The Farmers then suffered a 4-3 loss on a walk-off hit from Aruba, but maintained fourth position in the standings and advanced to the semi-final where they suffered a 3-0 loss to the eventual tournament champions.
#"It is with a thankful heart and a new found respect for the Freedom Farm organisation that I congratulate its manager, Greg Burrows Jr, coach and delegate Clearance 'CJ' McKenzie, coach Steve Burrows and Team Freedom Farm Bahamas for advancing to the semi-final round of the Caribbean Regional Little League Baseball Tournament, hosted in Puerto Rico," said Eddie Claude, district administrator for Little League Baseball in the Bahamas.
#"This is a first in the history of the Bahamas' baseball programme.
#"I wish them all the best for the future and ask God's blessings upon all who worked so hard on getting the team to Puerto Rico. It was truly a team effort."