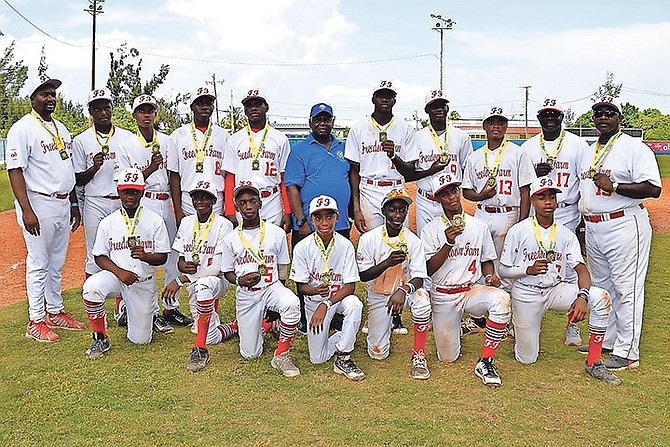 FREEDOM Farm Baseball League's under-12 team is expected to compete in the Cal Ripken Baseball World Series at BallParks of Americas Field in Branson, Missouri, this weekend.
#By RENALDO DORSETT
#Tribune Sports Reporter
#rdorsett@tribunemedia.net
#FREEDOM Farm Baseball League will continue its summer of international competition in the Under-12 division.
#The team is set to compete in the Cal Ripken Baseball World Series (Major/70) August 3-11 at BallParks of Americas Field in Branson, Missouri.
#They will take on Australia at 3pm on August 4, followed by a matchup against New Zealand at 3pm August 6 and the final game of the preliminary round against Puerto Rico at 3pm on August 7.
#The Bahamas is one of 24 teams competing in the division and one of just 10 international teams alongside the aforementioned teams in their pool with Korea, Japan, Canada and Dominican Republic.
#Major 70 is a level of baseball beyond Little League but before professional that allows players to play on 70-foot base paths with a 50-foot pitching distance. It also allows runners to take leads and steal for the first time, playing mainly by official baseball rules.
#This innovation helped to prepare the youth for better transition to the 90-foot diamonds of the Babe Ruth Baseball 13-15 and 16-18 divisions of play.
#Today, Babe Ruth League has more than 1,000,000 players on 56,000 teams in 9,000 leagues in eight countries and all 50 states.
#Just over a week ago Freedom Farm closed out competition at the Caribbean Regional Qualifier for the Little League World Series with an historic finish for the Bahamas. The team claimed the bronze medal at the event with a 6-1 win over Aruba at the tournament in Sabana Grande, Puerto Rico.
#Participating teams in the event included Los Bravos de Pontezuela (Santiago, Dominican Republic), Aruba Center (Santa Cruz, Aruba), Pabao (Willemstad, Curacao), Radames Lopez (Guayama, Puerto Rico A), Gino Vega (Sabana Grande, Puerto Rico B) and District 1 (St. Thomas, US Virgin Islands).
#Radames Lopez won the tournament 5-2 over Pabao and will represent the Caribbean at the Little League World Series August 16-26 in Williamsport, Pennsylvania.
#They completed the tournament undefeated at 8-0. It will be the first time a Puerto Rican side has represented the region in the event since 2014.
#After opening the tournament with three consecutive wins, the Bahamas suffered a four-game losing streak before concluding with the win in the bronze-medal game.