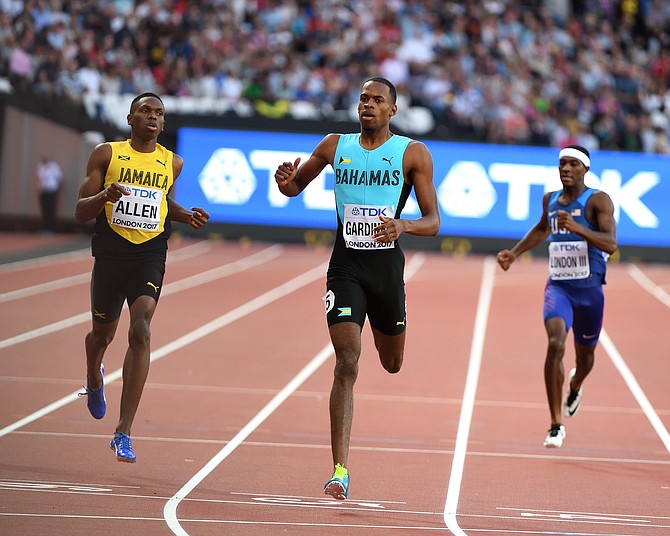 Steven Gardiner on his way to a new national record in his semifinal. Photo: Kermit Taylor/Bahamas Athletics
#By BRENT STUBBS
#Senior Sports Reporter
#bstubbs@tribunemedia.net
#LONDON, England: Head coach Dianne Woodside-Johnson and relay coordinator Rupert Gardiner were both impressed with the national record breaking performance by Steven Gardiner who become the first Bahamian to reach a final in the 16th IAAF World Championships.
#On Sunday night at the Queen Elizabeth Olympic Stadium, Gardiner shocked himself when he clocked an impressive 43.89 seconds to erase his previous national record of 44.28 that he set in Georgetown, Grenada on April 8.
#Only one Bahamian male has ever won a medal at these championships with Avard Moncur setting the pace as claiming the gold in 2001 in Edmonton, Canada. Chris 'Fireman' Brown was the last Bahamian to advance to a men's 400m final, finishing fourth in 2007 in Osaka, Japan.
#"He did a wonderful job. He was very relaxed and very confident in what he's doing," Woodside-Johnson said of the accomplishment, "He's very proud of himself. He's very happy with the time. He did it in style with a new national record. He did a wonderful job."
#Coach Gardiner – no relation – said it only sets the runner up for the ultimate showdown in the final.
#"You couldn't ask for anything more from his performance," coach Gardiner stressed. "I only wish he can go out in the final and duplicate that same type of effort."
#When he's done, coach Gardiner said they hope to get Gardiner ready for the possibility of securing another medal in the men's 4 x 400m relay, if the team advances to the final on Sunday night.
#"With a guy running a 43 leg, we look like we are right back in the hunt," coach Gardiner projected.
#Gardiner's performance will certainly help to solidify the team of Alonzo Russell, Michael Mathieu, Ramon Miller, Kendrick Thompson and Ojay Ferguson as they go after the Bahamas' fifth medal and the first since Avard Moncur, Mathieu, Andrae , Chris 'Fireman' Brown and Nathaniel McKinney snagged the silver in 2007 in Osaka, Japan.