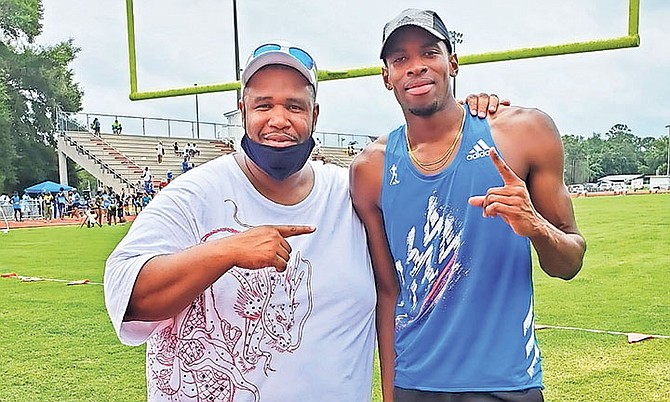 STEVEN GARDINER, right, is congratulated by meet director Daniel Medley.
#By BRENT STUBBS
#Senior Sports Reporter
#bstubbs@tribunemedia.net
#Add the Bahamas men's national 300 metre record to the list of accomplishments for Steven Gardiner.
#Fresh off his season opener at the B3R Sports Invitational last weekend in 31.95 seconds, Gardiner came back on Sunday during the American Fourth of July Independence holiday weekend at the same venue in San Juan, Florida and won the V12 Summer Games' race in a blistering time of 31.83.
#In the process, Gardiner obliterated Chris 'Fireman' Brown's national record of 31.91 that he posted in 2007 in Osaka, Japan. Gardiner's time was posted as the fastest for the year and 23rd on the world's all-time list.
#Asa Guevara of Trinidad & Tobago was second in 32.60 behind Gardiner and Quantavious Poole was third in 33.48 on Sunday, just as they did in the same position last weekend.
#This time, Evan Miller of the Speed Starz Track/Running Club was fourth in 35.44 as Gardiner's new Bahamian training partner Kinard Rolle didn't participate.
#"It feels good," Gardiner told The Tribune after yesterday's race. "We started out early this morning warming up and coach (Gary Evans) telling me what I had to do at the start and coming off the turn.
#"It was a good race. I think I could have done better on a better track. But I'm very happy with the way I performed."
#The 24-year-old native of Abaco added the 300m to the list of Bahamas national records that includes the 200m straight in 19.88 at the Adidas Boost Boston Games on May 20, 2018, the 200m in 19.75 at the Hurricane Alumni Invitational in Coral Gables, Florida on April 7, 2018 and the 400m in 43.48 to win the gold medal at the World Athletics' 2019 World Championships on October 4 in Doha, Qatar.
#"I feel good about it. I feel we are right on track to where we could have been if we didn't go through the coronavirus pandemic," Gardiner said. "I know it was tough for us in training, but we were still able to train and do what we have to do."
#The 6-foot, 5-inch Gardiner said the sky is definitely the limit on just how fast he can go. He anticipates that he will contest a 200m this weekend and see what happens. "I definitely want to continue to surprise myself," said Gardiner when asked about the race yesterday. "My start and the turn was much better. This time, I actually ran the turn. The first time, I almost fell because the track was tight."
#Back in lane five again, lightning struck twice for Gardiner.
#But Evans said this race was just the tip of the iceberg.
#"He ran well. He has more in the tank," was how Evans summed up the performance. "I think he could have set up the race a little bit better, but he came home strong.
#"He didn't start the way he started the previous race. It could have been better, but we take what God gave us and move on to our next challenge, which will be possibly a 200m."
#At some point, maybe this season because it's an off year with the Olympics postponed until 2021 because of the coronavirus, Evans said Gardiner could possibly make an assault on Brown's 800m record of 1:49.54 that he set at the Central American and Caribbean Games on August 17, 1998 in Maracaibo, Venezuela.
#But for sure, Gardiner will participate in a 200m race this weekend either in Florida, Georgia or North Carolina, once he can get to compete against a different crop of pro athletes.
#"You put your race together and you work on it the way you do in practice," said Evans about the possibility of trying to lower the national 200m record. "You just hope the clock stops at what you would like it to stop at.
#"I think it's still early because we haven't been doing a lot of speed work. With the season being messed up the way it was, we had to go to grass to train. We have only been on the track about two days a week since March."
#With just about nine sessions on the track in that span of time, Evans said he's amazed and astonished by Gardiner's performance as he continues to improve with each passing year.
#In preparation for the race, Gardiner said he stayed home on Saturday, watched television and cooked up a meal of baked chicken with white rice and cole slaw. To celebrate his feat, he said he did some ribs for his Sunday meal.