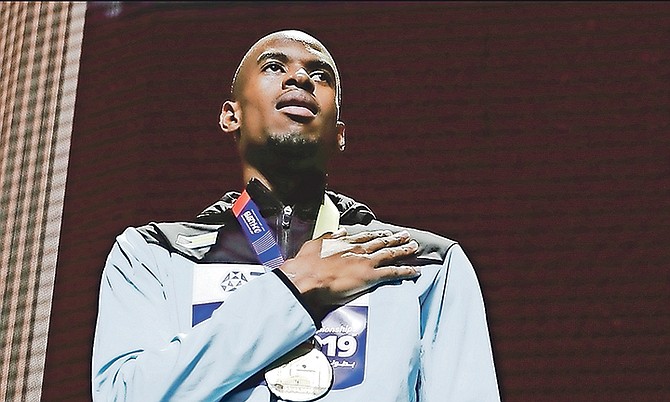 Steven Gardiner (file photo)
#By BRENT STUBBS
#Senior Sports Reporter
#bstubbs@tribunemedia.net
#LIKE his Bahamian On Track Management, Inc. counterpart Shaunae Miller-Uibo, World Championship men's 400 meter champion Steven Gardiner showed his versatility and speed over the weekend by competing in a pair of meets in Mariette, Georgia.
#On Saturday night at the Atlanta 150m Challenge at the Life University in Mariette, Georgia, Gardiner erased Chris 'Fireman' Brown's Bahamian national 150m time of 15.10 seconds that he ran in Manchester, England on May 17, 2014 when he clocked 15.07 to pull away from his nearest rival Christopher Belcher of Nike, who did 15.58 for second. Alonzo Edward of Adidas was third in 16.08.
#Earlier in the day at the American Track League Meet #6 at the same facility in Georgia, Gardiner raced to victory in the second of six heats of the century in 11.19. However, that was only good enough for 10th place overall.
#Edward had the fastest time overall in 10.37 as he took heat six. Another quarter-miler Fred Kerley of Nike won heat three in 11.05 for eighth place overall.
#Gardiner, who improved from the men's 400m silver medal at the 2017 World Championships in London, England to gold in Doha, Qatar last year, is now the national record holder in the 150m, 200m (19.75), 200m straight (19.88), 300m (31.83) and 400m (43.47). His name is also on the indoor 300m record with a time of 32.24.
#Claude Bryan, the chief executive officer of On Track Management, Inc., the management group for Gardiner and Miller-Uibo, simply stated that they were "quite pleased with his run."
#Gardiner, the 24-year-old sprinter from Murphy Town, Abaco, who started his international journey as a 200m competitor under coach Anthony Williams, adds his 150m time to his season's best of 19.96 in the 200m and 31.83 in the 300m.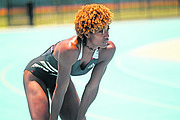 Shaunae Miller-Uibo pictured in July.
#As for Miller-Uibo, who had to withdraw from the finals of the women's 100m last week at the Star Athletics Sprint Showcase in Florida where she ran 13.56 seconds in the first round of the event, was back in action as she contested the women's 150m in the same meet Saturday night.
#Still not at full strength from her unconfirmed condition, Miller-Uibo had to settle for sixth place in 20.35. American Jessica Beard, also representing Adidas, was the overall winner in 18.02 with Chrisann Gordon-Powell second in 18.18. Hannah Cunliff was third in 19.32.
#Before her final two races, 26-year-old Miller-Uibo was the world leader up to August 9 with 10.98 before Jamaica's 1-2 punch of Shelly-Ann Fraser-Pryce (10.87) and Elaine Thompson-Herah (10.88) surpassed her in a meet last weekend as well in Kingston.
#Miller-Uibo, however, remains the world leader in the 200m at 21.98 and 400m with 50.52. She also holds the Bahamian national records in the 150m straight (16.23), 200m (21.74), 200m straight (21.76), 300m (34.41) and 400m (48.37). The 2014 World Indoor Championships' bronze medallist also holds the national indoor 300m record (34.35).
#Both Gardiner and Miller-Uibo have opted from competing in the 400m this year. Last year, Gardiner ascended to the top of the podium at the World Championships with the gold in the men's 400m, just a day after Miller-Uibo had to settle for the silver in a sterling run in the women's event behind Bahrain's Salwa Eid Naser in Doha, Qatar.
#Naser, who rocked the championships by producing the third fastest time of 48.14 to become the first woman athlete from Asia to win the 400m gold, is under investigation by World Athletics for a doping violation.
#If she is proven guilty, Miller-Uibo could be elevated to the gold after her Central American and Caribbean and Bahamian national record breaking silver medal feat of 48.37, adding to her title in the 2016 Olympic Games in Rio de Janeiro, Brazil.
#The results could also determine whether or not there will be a rematch at the 2020 Olympic Games, which have been postponed to 2021 in Tokyo, Japan because of the coronavirus pandemic as Naser could face a suspension for the violation.