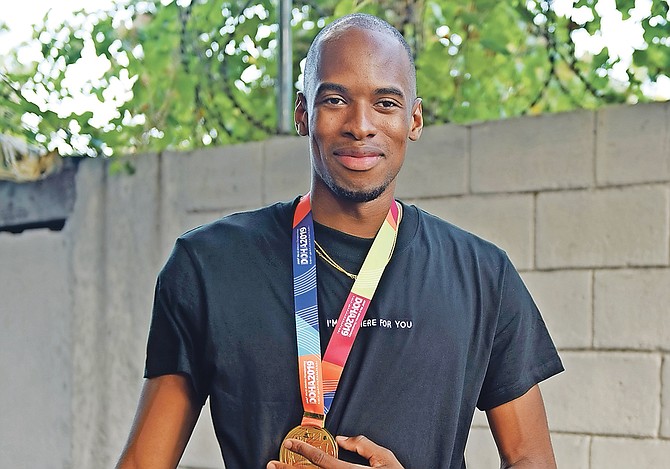 Steven Gardiner
#By BRENT STUBBS
#Senior Sports Reporter
#bstubbs@tribunemedia.net
#Bahamian world 400 metre champion Steven Gardiner sprung out of the COVID-19 lockdown with a victory in the 300 metres as he chased the Bahamian male national record on Saturday in San Juan, Florida.
#At the annual B3R Sports Invitational, Gardiner ran out of lane five of the six-lane track to easily win the race in 31.95, falling short of Chris 'Fireman' Brown's national record of 31.91 that he posted in 2007 in Osaka, Japan.
#Asa Guevara of Trinidad & Tobago came in second in 32.55 and Quintaveon Poole of the United States was third in 33.44. Also in the race was Bahamian Kinard Rolle, who is now training with Gardiner in Florida. Rolle, a 22-year-old 2019 graduate from Purdue University, was fourth in 34.35.
#"It was pretty good to have him there. Hopefully he can get better," Gardiner said of Rolle, also a quarter-miler who has ran a personal best of 46.86 and 21.39 in the 200m.
#As for his own performance, 24-year-old Gardiner said it wasn't what he expected, but he was glad to have been able to compete, considering the long lay-off because of the coronavirus.
#"I felt pretty good because my training went very well," said Gardiner of his sessions with coach Gary Evans. "It was my first run for the year, so I felt pretty good.
#"It was a normal run. I just hope that it can help me to keep going. It's something to gauge my performance, so I was really happy that I got to compete.
#Despite the lockdown and curfews imposed in Florida since March, Gardiner said he's in pretty good shape and he enjoyed the experience and he's looking forward to the rest of the season.
#Evans said it's not expected to be a long season for Gardiner, who will be back at the same meet this weekend when he continues his assault on Brown's record.
#"Our season was so long for us last year, leaving Doha in September and then having to prepare for the Olympics this year," Evans said.
#"That was a crazy plan to do Doha so late in the season and come right back for the Olympics.
#"So it was a blessing in disguise that the Olympics are postponed until next year. Now we can recuperate our body and get back on a perfect schedule once he takes his break in September and comes back in November to try and bring the gold back home for the Bahamas again."
#With most of their training confined to the grass during the height of COVID-19, Evans said Gardiner was only able to get on the track about three weeks ago and even then their time was limited to just two days a week.
#"He's a freak of nature," said Evans about Gardiner's ability to strive in any condition. "I couldn't believe the time he ran, especially because we didn't do the type of speed work to get him ready for it."
#The track, according to Evans, was a short one with tight bends, which made it more difficult for Gardiner to stretch out his 6-foot, 5-inch frame. But he said because there are no more major events this year, they will use the time to pursue the 300m record. "At some point, we will let him go after the 300 and the 800m records," said Evans of Gardiner, who currently holds both the 200 and 400m national records. "It's just a matter of when we will be able to go after the 800m.
#"We're not going to put it out there and say we are going for it. For the 300m, this would be a good year for us to go after it because there's really no major meets, so we will play with it and go for it."
#Gardiner, who was a finalist for the World Athletics' Male Athlete of the Year at the gala awards ceremony in Monaco in November, lowered his men's national 400m record to 43.48 in winning the 400m title at the World Championships in Doha on October 4.
#The Abaco native, who started his career in the 200m under the guidance of coach Anthony Williams in Moores Island, established the national record in the 200m at the Hurricane Alumni Invitational in Coral Gables, Florida on April 7, 2018.
#"Before we had this interruption, he was ready to run this year," said Evans about Gardiner's preparation in the pre-COVID-19 stage up to March. "We're not going to do too much more because we might be facing another shutdown in Florida."