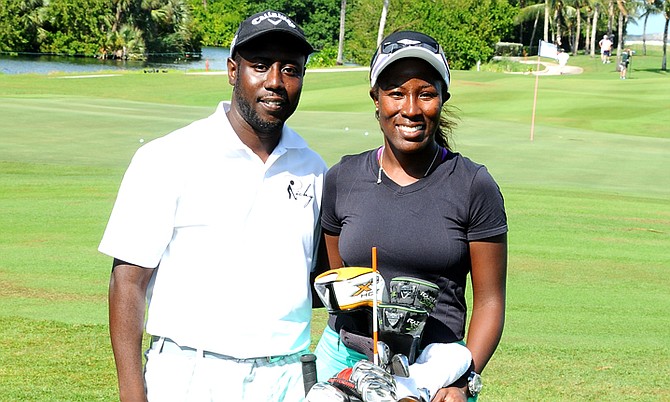 Georgette Rolle takes a photo with her Golf Caddy Ricardo Davis at the Pure Silk-Bahamas LPGA Classic at the Ocean Club Golf Course, Friday. (BIS photo/Kemuel Stubbs)
As of Friday, January 29, 2016
#Georgette Rolle shot 85 in Round 2 ending her chance to compete for the winning title in the Pure Silk-Bahamas LPGA Classic at the Ocean Club Golf Course, on Friday.
#At about 1:30pm she made her way to the scoring tent to get her final score, after which she said it was time to think about her next step – qualifying for the upcoming summer Olympics in Brazil.
#"I still have the same end point in mind – the Olympics. I came out here, hitting the ball well but when I make a mistake it gets be a little bent out of shape," she said.
#"It is a lot to swallow," she added, "especially being at home it is a little more difficult. I will now focus on getting qualified for the Olympics and make sure I give it my all so I have no regrets."
#However, she said she was proud and honoured to still be playing at a level to again represent The Bahamas in the tournament at the world famous Tom Weiskopf-designed Ocean Club Golf Course.
#Rolle, 30, who competed in the 2014 tournament, is a two-time winner of The Bahamas National Amateur Championship and is teaching professionally at the Bahamas Golf Federation Driving Range.
#She was among 108 players competing in the fourth edition of the Pure Silk-Bahamas LPGA Classic, which offers a purse of $1.4 million and is the opening event of the 2016 LPGA season. Sei Young Kim is the defending champion.
#This is the fourth year The Bahamas, through the Ministry of Tourism, is hosting the Pure Silk-Bahamas LPGA Classic, January 25 -31.
#By LINDSAY THOMPSON