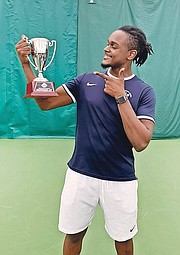 CHRISTOPHER Godet
#By BRENT STUBBS
#Senior Sports Reporter
#bstubbs@tribunemedia.net
#CHRISTOPHER Godet, one of the Bahamas men's national soccer team players, is leaving town today to return to Rome, Italy to take up an assistant coaching job and resume his semi professional career as a player.
#Godet, 22, left today to assist with the coaching staff at the American University of Roma SMI programme, a job he secured during his past season in Rome.
#"When I was doing my classes, we did coaching courses, coaching theories and we had to demonstrate it on the field," Godet said. "I got a chance to put what I learned into practice, so I jumped right at it."
#Having spent the past year in Rome, Godet said he also learned to speak the Italian language fluently, but unfortunately since returning home in March, he didn't put it into use because he was isolated at home in the coronavirus pandemic.
#However, he said he can formulate a conversation that will enable him to get his point across as he interacts with the players on the team he will be assisting as a coach and those he will be joining as teammates on the team he will eventually sign up to play with professionally. "When I go back there, I will get a chance to play with one of the club teams in one of the leagues in the city," Godet said. "When the clubs open practice, they will make it known what positions they need and once you are available, you can take advantage of it. So I hope to get a spot on one of the teams.
#"These are legitimate clubs in the league. Unlike here (in the Bahamas Football League) where we only have one league, there are at least 10 leagues in Rome, so there's sufficient opportunity for me to get a chance to play on one of them. You're just not under any big contract."
#In preparation for his return to the field, Godet did some individual training due to the fact that the country was locked down for the majority of the time he was home with his parents, Dion and Rionda Godet.
#Prior to heading to Rome, Godet played for the Mount Aloysius Mounties in Cresson, Pennsylvania after he graduated from Queen's College in 2015.
#"I've been doing the zone training (implemented by the BFA's national team) and running on my own," Godet said. "I've also been lifting weights to ensure that I stay fit."
#While the economy is expected to start to reopen on Monday, there has not been any indication of what will happen to the landscape of sports in the country.
#Godet advised local soccer players to not rush into anything, but to gradually get back on the soccer field when they get the go ahead. "I know the players are eager to play, but as with everything, they will have to ease back into it," said Godet, in offering some advice as a league player/coach with the Bears Football Club and also as a referee in the youth programme.
#"You know that you haven't worked out in three months, so you don't want to just rush into it, but rather take your time doing it, knowing where you were before the break and what it will take to get you back there."
#Like his father, Dion, who was a previous coach of the men's national team, Godet intends to not only come back and make his continued contribution as a member of the team, but hopefully in the long run he will use his expertise as a coach when he returns home from Europe.
#"I'm looking forward to coming home and playing on the national team, if I get the call," said Godet of the men's national team that will play in the CONCACAF Qualifying Round for the World Cup later this year.
#"I'd like to also use my coaching experience to give back to the BFA because they invested in me at no monetary cost to me. So whenever and whatever I can do to help, I want to be able to do it."
#Through his participation on an under-15 and two under-17 national teams, Godet said he was able to secure his athletic scholarship to Mount Aloysius Mounties.
#Last year, he made his first senior national team against Dominica (although he didn't play because he was injured) and he hopes to be back for the CONCACAF team.
#"We have a good team and anything could happen when the tournament comes around," said Godet .
#"A lot of the teams have been training. We may not have been together as a team because of our situation here with the coronavirus, but the players have been working out on their own.
#"So I am confident that they will be ready when the team comes together."
#As he gets set to travel, Godet said he will have to provide a negative COVID-19 test result, which he has secured and he will have to be quarantined for at least two weeks when he gets into Rome.
#"I've done my COVID testing and my housing is waiting on my arrival," said Godet, who will be right in time for the start of school at American University of Roma on September 21.
#Godet said he's just as eager to get back to Rome to pick up where he left off before he returned home in March, despite all that is going on with the coronavirus.