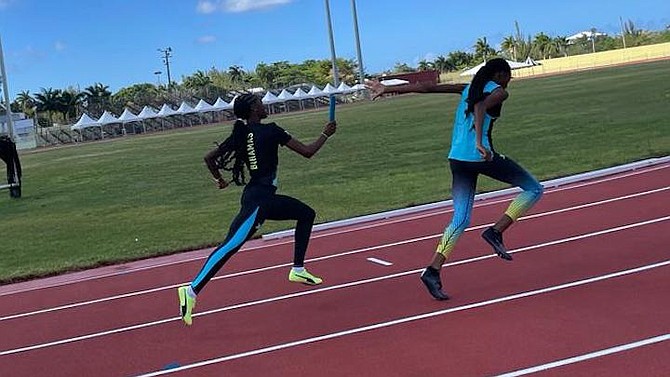 BATON EXCHANGE: Darvinique Dean gets ready to pass the baton to Jamiah Nabbie during yesterday evening's CARIFTA Games practice session at Thomas A Robinson National Stadium. Photo: Tenajh Sweeting
#By TENAJH SWEETING
#tsweeting@tribunemedia.net
#The Bahamas CARIFTA team is ready to win gold on home soil at this year's 50th CARIFTA Games.
#Last week the team rolled out a full 80-member team for the first time in Bahamian history as athletes look to shine at The Bahamas' record ninth hosting of CARIFTA.
#With the countdown for the event now down to zero as the opening ceremony for the event will take place 4pm tomorrow at the Thomas A Robinson stadium, first-time athletes are ready to leave it all on the track and field.
#The Bahamas' 80-member team has more than 50 first-time athletes on this year's team. Among this year's first timers is none other than Amari Pratt. The under 20 performer initially qualified for CARIFTA in 2020 but due to the COVID-19 pandemic, the event was cancelled. However, she is happy to make her CARIFTA debut on home soil.
#"I am kind of excited. I know what I came to do. I am just going to execute my race the best I can and try to come home with the gold," Pratt said.
#She said she is very excited to see her hometown crowd, including her friends and family. She also looks forward to the support of the Bahamians.
#Darvinique Dean is also set to make her CARIFTA debut in under 17 girls 400m race and 400m hurdles. Dean secured her spot on this year's CARIFTA team by qualifying in the under 17 400m race with a time of 56.58 which bested the qualifying mark of 56.64 at the CARIFTA trials and nationals.
#"I am very excited. I am glad that I am here to represent my country. I am glad that I am doing it at home so people can know who I am and to just do well," Dean said.
#She said physically she placed emphasis on her diet and mentally she tries to get a full night of rest in preparation for morning practice while also having a play no games mindset.
#Melvinique Gibson will look to make her name known in her CARIFTA debut in the under 20 girls 4x100m race and possibly the 4x400m relays.
#Gibson talked about how it felt to be selected to an historic team.
#"It feels good, it feels like a dream come true and everything I said last time just came into fruition so I thank God most of all," she said.
#She added that she feels 100% ready physically and that she goes the extra mile to practice at home after evening sessions to give herself an extra push ahead of her big debut.
#Shayann Demeritte will look to make the country proud in the 100m and 200m race. Demeritte qualified for CARIFTA multiple times throughout the track season leading up the 50th edition of the games. Demeritte talked about how it feels knowing she will compete in front of a home crowd.
#"I am very excited because I know that The Bahamas will come out to support and I know that they will have our backs," she said.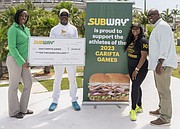 Subway Bahamas comes on board as a bronze level sponsor of the 50th CARIFTA Games in Nassau over the Easter weekend. Pictured, from left to right, are Dion Miller, Subway operations manager, Shantika Jones, Subway multi-unit manager, Lynden Maycock, LOC chairman, and Fernerin Hanna, marketing director.
#The under 17 athlete added that she is mentally preparing through prayer and physically she is working on starting stronger to be in tip top shape for her three events (100m, 200m, 4×100 relays) at CARIFTA.
#Madison Moss is excited to make her CARIFTA debut in the under 17 girls 100m hurdles action.
#She said that although she is excited it is kind of nerve-wrecking knowing that it is going to be home but physically she credits long practices, long evenings, and early mornings for what she will be able to do in the event.
#For the boys, some of this year's Team Bahamas first-timers are Adam Musgrove, Eagan Neely, Laquan Ellis, Zion Hendfield, and Johnathan Fowler.
#Musgrove is set to compete in this year's under 20 boys 100m and 200m race.
#"It feels amazing, it feels like a dream come through," he said.
#He added that competing at home will definitely give the team an advantage from the thrill of the crowd to step a little harder, throw a little further, and jump a little longer.
#Eagan Neely will perform for The Bahamas in the 400m race for the first time. He said that so far he is enjoying the experience of being a CARIFTA athlete and he cannot wait to compete against all the different countries.
#Laquan Ellis, will look to leap for gold in Easter weekend's triple jump event. The athlete grew up in Bimini but studies abroad and decided to compete at this year's event after missing the last one due to injury.. Ellls talked about his mindset going into his CARIFTA debut.
#"It feels great, it's a blessing nonetheless and I am pretty proud to be able to represent my country," he said.
#Zion Hendfield, first time competitor at CARIFTA, will look to make his parents and country proud at this year's games in the 800m race.
#He said he feels like his own special person and it feels great to make it and achieve something his parents could be proud of.
#Johnathan Fowler, will look to bring home gold for the "G" team at this year's 50th CARIFTA games. Fowler said the third time's the charm as he missed the first CARIFTA he was selected to, the second time the games were not hosted, and now the third he is ready to go.
#He added that he is very excited and feels extremely blessed. The young athlete said it feels like he is in the best shape of his life and he is ready to compete in front of the home crowd.
#Pharez Cooper, team manager of Team Bahamas, said chemistry has been a big factor in practice sessions with athletes.
#Cooper said the team got together for the first time at a church service on Sunday and the officials immediately noticed some synergy between them.
#"Chemistry is very important not just on the field but with each other as individuals you can't just have challenges or malice in between the teammates," Cooper said.
#He added that being on the same wavelength is important as well and matching the capabilities of their teammates. Like many of the first-time athletes Cooper believes the home advantage will lift Team Bahamas to a CARIFTA win.
#Additionally, he finished by saying practice sessions have been very beneficial because it is the athletes going against other really good athletes and he believes that things are coming along well and Team Bahamas is just about ready.
http://www.tribune242.com/news/2023/apr/06/going-gold/?news