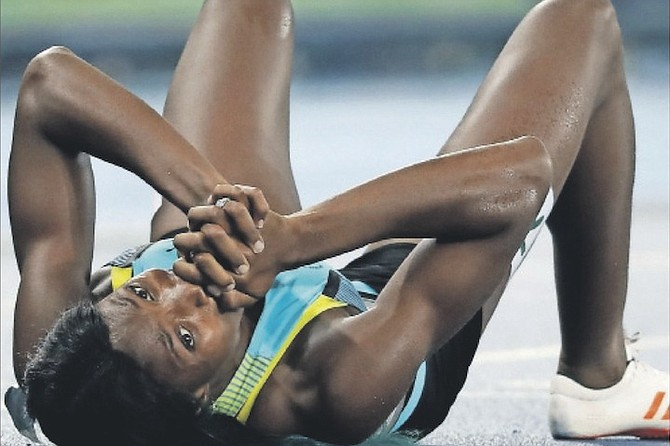 OLYMPIC GOLD MEDALLIST Shaunae Miller will not be competing in the final IAAF Diamond League Meeting in Brussels, Belgium, on Friday.
f Wednesday, September 7, 2016
#By BRENT STUBBS
#Senior Sports Reporter
#bstubbs@tribunemedia.net
#A contractual breakdown between the management team of Rio Olympic women's 400 metre champion Shaunae Miller and the meet promoters will keep the Bahamian rising star out of the AG Insurance Memorial Van Damme on Friday.
#Miller's manager, Claude Bryan, confirmed to The Tribune on Tuesday that the national 200m record holder will skip the final IAAF Diamond League Meeting.
#"Kindly note. We were unable to come to terms with the Brussels Diamond League so unfortunately Shaunae Miller will not be competing in the Belgium capital," Bryan confirmed with The Tribune.
#"Her season has effectively ended and she hopes for a healthy and successful 2017."
#Bryan said it was fiscal in nature when pressed about the decision for Miller not to compete.
#Miller dropped to second place in the Diamond League standings in the one-lap race by just one point behind Jamaican Stephanie Ann McPherson, was not included on the entry list provided by the IAAF.
#Miller, 22, was scheduled to be one of two Bahamians competing in the meet. The other is high jumper Donald Thomas, who is confirmed on the list.
#In addition to McPherson, included on the list for the women's 400m is Caster Semenya, of the Republic of South Africa, who last week clinched the women's 800m Diamond League title in Zurich, Switzerland.
#Others include Jamaican Olympic 400m bronze medallist Shericka Jackson, Americans Natasha Hastings and Courtney Okolo, Italy's Libania Grenot, France's Floria Guel, Canada's Carline Muir and Ukraine's Olha Zemlyak.
#While McPherson holds a slim 31-30 point lead over Miller, Hastings is sitting in third place with 28. The next contender is Jamaican Novlene Williams-Mills with 17, but she too is not competing in Brussels.
#So Miller's absence could bring the race down to a showdown between McPherson and Hastings for the overall title.
#Miller, winner of three of the races held in the series, was on target to become just the second Bahamian to win both the Olympic and Grand Prix title, following in the footsteps of national record holder Tonique Williams, who did it in 2004.
#The women's 400m started in Shanghai, China on May 14, and continued in Eugene, Oregon on May 28, Oslo, Norway on June 9, Stockholm, Sweden on June 16, London, England on July 23 and Paris, France on August 27.
#The winner of the Diamond Race Trophy will earn USD $40,000. There is also an incentive of $10,000 for winning the race on Friday.
#Miller is coming off her stumbling dive across the finish line to clinch the gold over American Allyson Felix in the women's 400m in Rio. She suffered the bruises as a result. On her return home for a celebration, she indicated that she was disappointed that she didn't get to go for the double in the 200m where the heat was on the morning of the 400m final.
#In Rio, Miller was in the pool for the women's 4 x 400m relay, but didn't contest the preliminaries as the quartet of Lanece Clarke, Anthonique Strachan, Carmiesha Cox and Christine Amertil went on to lower the Bahamas national record in falling short of qualifying for the final.
#If she would have gone to Brussels this weekend, the women's 400m would have been one of the most keenly anticipated showdowns. Plus, many would have liked to see how Miller would have matched up against Semenya, who could be adding the event to her 800m specialty next year at the IAAF World Championships in London, England.
#Instead, the men's high jump, featuring Thomas, is now listed as one of the most thrilling events of all from a Diamond Race perspective.
#With only six points separating Bohdan Bondarenko in first from Robbie Grabarz in fourth, the competition is incredibly finely balanced. If any of Bondarenko, Grabarz, Mutaz Essa Barshim or Erik Kynard win in Brussels, they will be crowned Diamond Race champion.
#Barshim and Bondarenko are the Olympic silver and bronze medallists. Gold medallist Derek Drouin from Canada is not entered.
#Thomas, ninth in Rio, is not in the rankings for the title, but he could earn some extra change for his appearance on Friday, if he does compete. There's no indication that he won't be making the trip to Brussels. He too was unavailable for comments.
#Only Mutaz has jumped higher than Thomas this season at 2.40 metres or 7-feet, 10 1Ž2-inches. Thomas, with his personal best of 2.37m (7-9 1Ž4), has matched the SB of Bondarenko.
#However, Mutaz (2.43m/7-11 1/2), Bondarenko (2.42m/7-11 1Ž4)) and Ukraine's Andriy Protsenko (2.40m/7-10 1/2) have PB higher than Thomas.
#The men's high jump series included Doha, Qatar on May 6, Rabat, Morocco on May 22, Rome, Italy on June 2, Birmingham, England on June 5, Monte-Carlo, Monaco on July 15 and Lausanne, Switzerland on August 25.
#Last week, men's national record holder Steven Gardiner completed the men's 400m series in Zurich tied for fourth place with Nery Brenes of Croatia with 10 points. Gardiner placed fifth in Zurich in 45.66 as Merritt ran away with the race in 44.64.
#The other six meetings for their series were at the same as the men's high jump in Doha, Rabat, Rome, Birmingham, Monte-Carlo and Lausanne.
#American LaShawn Merritt, the bronze medallist in Rio, won the title with 50 points. His nearest rival was Grenada's Bralon Taplin with 24. Isaac Makwala of Botswana was third with 20.
#Republic of South Africa's Wayde van Nirkerk, who set a world record in picking up the gold in Rio, along with silver medallist Kirani James from Grenada, didn't compete.
#Gardiner, 20, didn't advance out of the semi-final of the men's 400m in Rio. But he ran the third leg on the men's 4 x 400m relay team of Alonzo Russell, Michael Mathieu and Chris 'Fireman' Brown that picked up the bronze behind the United States and Jamaica respectively.
#Stephen Newbold ran in the preliminaries instead of Mathieu, while Demetrius Pinder was an alternate.