Hall Of Fame Inductees Special Guests In House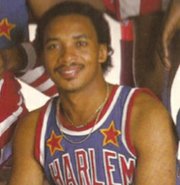 'Goose' Lockhart
#By RENALDO DORSETT
#Sports Reporter
#rdorsett@tribunemedia.net
#THE busy week of activities continued yesterday as the Ministry of Youth, Sports and Culture paid homage to the latest additions to the Bahamas Sports Hall of Fame.
#The class of 2013, which includes 21 inductees, were special guests in yesterday's morning session of the House of Assembly and were treated to a luncheon by the department of sports.
#Osborne "Goose" Lockhart, former basketball star at the high school, collegiate and most notably, the professional level with the Harlem Globetrotters, gave the athletes' response following the luncheon. "It is a great honour to be recognised by your country and I congratulate all the other inductees. I tell people all the time, we might be a small place but there is a lot of talent in this country. It is so important for these kids coming up to know that somebody before them reached a level in their sport, and came from the same places they came from. I have played in over 90 countries and there is nothing like when I hear 'that is the first foreign born player to ever play for the Harlem Globetrotters.'
#"We really need to start recruiting all the talent we have in the country and developing them. These kids need to know that if I work hard, and if I do this, this and this, I can get to the top," Lockhart said. "This has been a really good experience for me. The difference between us and someone else, we have a vested interest in these kids and seeing them succeed. It has been a great experience thus far, I got to see a lot of old faces, faces that I have not seen in a long time."
#The induction ceremony for the 2013 class is scheduled for 7pm Friday, November 22, at Government House.
#Other events during the week of activities included the Sri Chimoy Oneness Home Peace Run, a church service at St Agnes, and school visits in New Providence, Grand Bahama, Abaco and Exuma.
#Addressing the House of Assembly, Minister of Youth, Sports and Culture Dr Daniel Johnson called this year's group, a "special class."
#"This is a special class as we commemorate our 40th anniversary of our independent country. It has some notable individuals. Our ministry is very proud to stand here and congratulate their lives and examples they are to the nation. This is a very distinguished class. Our ministry poured over them for several months. All of them are heroes to us in their own regard. We love you with respect, today, we honour you," he said. "Some of these persons, we feel still have some contribution to make to the development of sports, and we hope to call on some of them to assist us in the establishment of the Bahamas Sports Academy."
#Opposition leader Dr Hubert Minnis also offered his congratulations to the inductees. "The contribution these individuals have made to Bahamian society can never be measured and I am happy that they are being honoured here today so the Bahamas can see what they have done. I think as we move to this new Bahamas of accountability and meritocracy we would be able to take ourselves in a position where we can say with confidence that the Bahamas takes care of its own. We cannot continue to just absorb and never give back," he said.
#"I look forward to seeing these individuals' pictures posted in facilities so that when Bahamians and other nationals throughout the world visit the Bahamas they can see who made such great contributions to the Bahamas and our young people can look forward to they themselves being placed on such a wall."
#Director of sports, Tim Munnings, whose father Harold Munnings is a member of the 2013 class, said the Hall of Fame induction is a feat to be celebrated by Bahamians of all demographics.
#"Sports is one of those things that really crosses all barriers and brings everyone together. You may not have played a sport, but you know someone that played a sport, a child, grandchild some relative or some connection," he said. "So honouring these 21 persons, for their contribution to national development, is fitting and should be celebrated by all."
#The National Hall of Fame was established as a means to show the country's appreciation to those contributors to sports whose exploits may have gone unnoticed in the past and, at the same time, deliver recognition to those who continue to shine for the Bahamas.