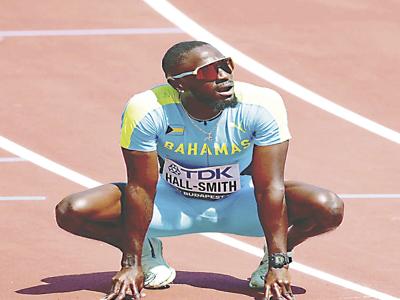 After getting his feet wet at the world level in 2023, Bahamian hurdler Shakeem Hall-Smith is prepared to take it a step further this season, making it through the rounds and possibly winning a medal at the Olympics.
The top long hurdler had a breakout year in 2023, running the four fastest times of his career in the 400 meters (m) hurdles, capped by a personal best run of 49.25 seconds for the top spot at the Harry Jerome Track Classic at McLeod Athletic Park Stadium, in Langley, British Columbia, Canada, in mid July.
"I felt like I could have done so much better last season, but overall, I'm happy with the results. I started my Fall training late last year, but went at it hard, getting ready for indoors. I kept training, got race sharp and my times eventually dropped," he said. "My mind is set on breaking the national record and I will continue to hold myself to a high standard. It's not going to be easy but I'm prepared to put in the hard work. I'm a strong believer in if you dedicate yourself to the process, anything is possible. I have a strong trust in my coach and in my training group. We're all working hard, we're all world-class athletes and anything is possible. I have no doubt that I will be successful."
Gibson's national record is 48.17 seconds and the automatic qualifying time for the Olympics is 48.70 seconds. Hall-Smith has three major global meets in his sights for 2024 – the world indoors in Glasgow, Scotland in March, the world relays in Nassau, The Bahamas, in May, and the Olympics in Paris, France, at the end of July and the beginning of August.
Hall-Smith said it wasn't easy getting to the point where he is now. In fact, he said he contemplated walking away from the sport before coming in contact with current coach Mickaël Hanany of France. Hall-Smith is a part of a professional group of about 15 athletes training under Hanany, a former high jumper, in El Paso, Texas.
"He's very knowledgeable and very experienced. He made it work in a short period of time and I really appreciate him," said Hall-Smith. "He encouraged me to give it a shot after I thought about giving up. My teammates and my coach push me every single day in practice. I just have to continue working hard trust his (Coach Hanany) training. Practice is extremely hard. It takes a lot of dedication and focus but I'm fully prepared mentally and spiritually. I have about four months of hard training and then I'll just try and have some fun next year and qualify early."https://8fca684f61352ef9c4252bc83070b157.safeframe.googlesyndication.com/safeframe/1-0-40/html/container.html
Back in El Paso, Hall-Smith started training for the new season about two weeks ago. He said the high elevation in El Paso helps to intensify his training and helps with breathing techniques. Also, Hall-Smith wants to get faster over the flat 400m as he feels that will help with his speed and execution in the 400m hurdles. He intends to use the sprints and sprint hurdles to help with speed for the 400m hurdles.
"I'm eager on being a new face. I'm looking forward to putting The Bahamas on the map and putting my name on the map. I want to do something big next year," said Hall-Smith. "I started to chase points for the world championships as soon as outdoor season started. I wanted to get the automatic qualifying time, but I didn't get it. This season, the goal is to get the mark early, make it through the rounds at the Olympics, through the semis and final and get on the podium. I just have to continue to train hard and push hard to get to the next level."
Hall-Smith said he wants to get down to about 45.8/45.9 in the open 400m and run the event indoors and outdoors in 2024. He's looking to qualify for the World Athletics Indoor Championships in the men's 400m and the Olympics in his specialty, the 400m hurdles. He also wants to run some Diamond Leagues events in 2024 in an attempt to market himself more and gain world rankings points.
"I know I will be strong enough to qualify for the Olympics early in the season in the 400m hurdles," said Hall-Smith. "I've never really challenged myself to run a 44 in the 400m – I just stuck with the training for the 400m hurdles, but I'm open and optimistic. The 400m is one of the more tougher events on the track. Quarter-mile training is no joke. It's extremely painful, but once you have that strength, it never goes away. You could always rely on that. The hurdles is more of a rhythm event."https://8fca684f61352ef9c4252bc83070b157.safeframe.googlesyndication.com/safeframe/1-0-40/html/container.html
At 26, Hall-Smith is one of the rising stars for The Bahamas in athletics. He said he's appreciative for the support, the words of encouragement, and the prayers from the Bahamian people and will continue to take it one step at a time in his progression.
"Breaking the national record is a goal of mine. I've dreamt about it from high school," he said. "I keep getting closer and closer to running 48 seconds – it's like it's right there. I just have to trust my training, continue to push and keep going at it."
Hall-Smith said he's good friends with national record holder Gibson, with whom he had a conversation with recently.
"I told him that I want to break the record, and he's pushing me to do it. I wish he was running while I am running so we could push each other. I've broken records in college, but nothing compares to breaking your country's national record. It would mean the world to me," said Hall-Smith.
Gibson is The Bahamas' most prolific 400m hurdler ever, setting the national record at 48.17 seconds and turning in more than 50 runs under 50 seconds. He is the only Bahamian to ever run under 49 seconds in the men's 400m hurdles. Hall-Smith said he's determined to get to that next level.
"I'm determined to keep going," he said. "I just want to send out a big shout out to everyone who believes in me. I'm back and I'm better than before and looking forward to the new season."
Hall-Smith had one of his best years in athletics last season and is looking for continued progression in 2024.