As of Friday, September 2, 2022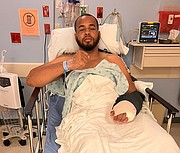 AMRON "Sandman" Sands after surgery on his left pinkie finger.
#By BRENT STUBBS
#Senior Sports Reporter
#bstubbs@tribunemedia.net
#A LITTLE over two months since he suffered an injury to his left pinkie finger in his unanimous victory over American Joe Jones, heavyweight boxer Amron 'Sandman' Sands said he's recovering and should be ready to get back in the ring before the end of the year.
#Sands, 28, suffered the injury in the second round, but still held on for the eight-round victory at the Turning Stone Resort & Casino in Verona, New York.
#He said it displayed the "heart of a champion."
#"The hardest thing for me right now is to get the ring rust off," Sands said. "I last fought in June when I got the injury and I probably won't get to fight again until maybe in December or in January.
#"But I've just been trying to perfect my right hand, making sure I get my power down. The left hand was the sleeper."
#During the fight, Sands shattered his pinkie finger. He said the doctors told him after the surgery that it looked like cornflakes. But he's thrilled to know that as he goes through his therapy, he's getting better and better each and every day.
#"I'm just training and trying to get everybody in order," said Sands, who is based in Orlando, Florida. "I can't wait to get back. It's money to make."
#Sands, who improved his win-loss record to 12-2 since turning pro in 2017, participated in his first match since signing with Kevin Dever Sports Management.
#The show was a part of ShoBox New Generation and Sands said it was an opportunity for him to "show up. You can't be on national TV and punk out. You have to show out."
#"They're trying to get me back in New York and on the big stage."
#As he continues his physical therapy, Sands said everything is coming together and his pinkie is doing quite well.
#He thanked the Strikers Boxing Club, headed by Ronn Rodgers, for providing him the opportunity to get into the sport.
#"If it wasn't for the Strikers Boxing Club, I wouldn't be competing," said Sands, who when first approached by Rodgers, told him that he was "too handsome to get into the ring" because he didn't want his "face to get hit."
#That was at the age of 19. But since that journey, Sands is now ranked at no. 32 in the United States and about 100 in the world and could be fighting for a title fight as soon as he gets back into the ring.
#There are plans for that possible title fight to take place right here in the Bahamas where Sands' only fight was an unanimous decision over Jerry 'Big Daddy' Butler on May 26, 2017 at A Social Affair and Convention Center in Freeport, Grand Bahama.
#Rodgers, who is trying to secure the title fight here, said he wishes that Sands could return home to train, but his contract will only allow him to train in the US for the time being.
#"When he was training here at the start of his professional career, he was about 240 pounds," Rodgers said. "With a lack of training, he went up to about 270. That was too much weight for him to carry along.
#"He's now where he needs to be and because of COVID-19, I wasn't able to go to his training site for his last few fights.
#"But we're looking forward to getting him back home to train and hopefully to fight here at home once he gets back in the gym training from the injury."
#Only time will tell when he gets back at full strength, but Rodgers said he's impressed with Sands' recovery progress at this point.
http://www.tribune242.com/news/2022/sep/02/heavyweight-boxer-amron-sandman-sands-recovering/?news