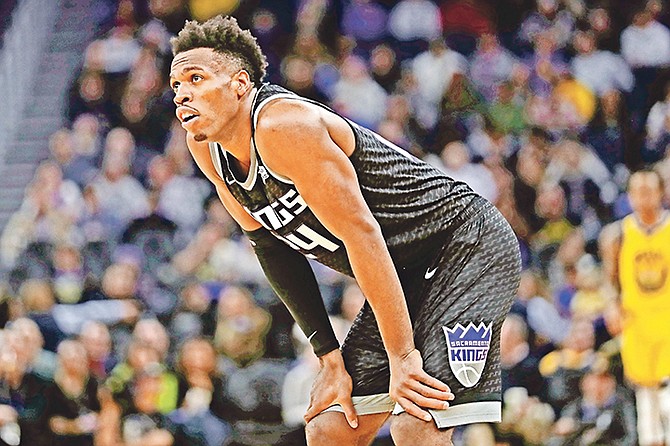 Sacramento Kings guard Buddy Hield. (file photo)
#By RENALDO DORSETT
#Tribune Sports Reporter
#rdorsett@tribunemedia.net
#CHAVANO "Buddy" Hield had a simple reply when asked about the Sacramento Kings' playoff prospects:
#"It's an eight-game tournament and we want all the smoke."
#Hield spoke to reporters from the NBA clean site following the team's final practice ahead of their official restart to the season 8pm tonight against the San Antonio Spurs.
#Each of the 22 teams in Orlando at the Walt Disney Resort's Wide World of Sports Complex will play eight "seeding games" followed by the traditional playoff format.
#In the race for the eighth and final playoff spot in the Western Conference, The Kings are No.10 at 28-36 and 3.5 games behind the No.8 Memphis Grizzlies at 32-33.
#If the No.9 seed is more than four games behind the No.8 seed, No. 8 will make the playoffs.
#If they are fewer than four games behind, the teams will compete in a play-in tournament for the final spot. "We are going to compete, try to win this tournament. Hopefully, teams that are ahead of us are knocked off, but we just have to control what we can control. Win as many as we can and take it one game at a time," Hield said.
#"We picked up the intensity level. We're competing and we know what's at stake. It's an eight-game tournament and we're just going out there to compete. Every game is serious, every possession, can't be any mistakes. We have to try to be mistake free and every game we have to win."
#The Kings finished scrimmages 1-2.
#"They were really important. We didn't get the result we wanted all three scrimmage games but we got to learn from them and we keep getting better and better. We had a great practice, so every day we just have to keep improving. When the ball gets going all we can do is compete and give it all we've got," Hield said.
#Hield led the Kings in scoring at 18.3 points per game. He also added five rebounds and 2.3 assists per game and said his recovery from COVID-19 has gone as well as can be expected.
#"I feel like I'm there now. Of course, when you're playing a preseason game it's different from a real game, your anxiety and mental preparation is different. When my number is called, I go out there and produce for my team, the goal is to try to stay mistake free, score as much as I can, get my teammates involved and compete on both sides of the floor," he said, "I know what my teammates need me to do – be better defensively, making plays, using my weapons to help guys get open and just be a more mature basketball player. I think in quarantine I was able to watch film, see my mistakes, the things I've been messing up on and I just worked on correcting them and trying to apply them to the game.
#Hield said the team's isolation in the bubble at the Disney resort has created a bonding experience.
#"We get to bond more, know about guys' personal lives, get in depth and get to know guys that you might not have those opportunities to interact within the season," he said, "The bonding means a lot, especially going into a tournament where we have to go in with all time high confidence and that comes from gelling and communicating with each other. Understanding it doesn't matter who scores 35 points, 20 points or two points. The ultimate goal is an eight game playoff and we have to win, for us to get to that point we have to come together."
#One of his many off-the-court concerns for Hield and other players – being away from friends and family over an extended period of time while isolated at the clean site.
#"It's difficult for everybody. It's something we've been through before and we have to adjust, but it's life, we're blessed to be here," Hield said, "We cant see our families but we have to provide for them, put food on the table, put a roof over their heads, that's the main point and thank God for us being able to resume the NBA season so we can make money and provide for them. It's tough right now but we know it'll be better in the long run."