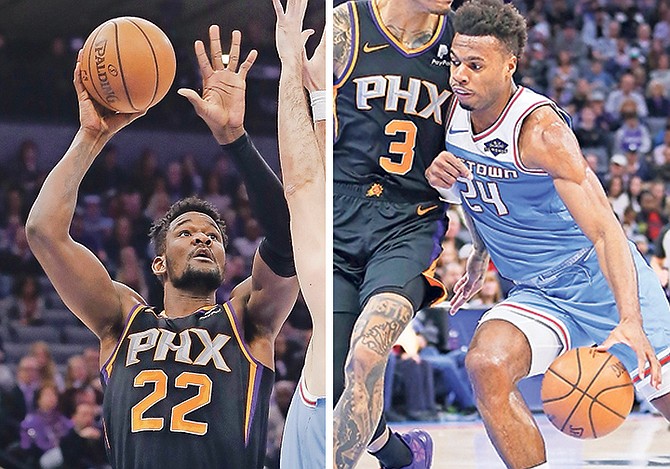 Deandre Ayton and Buddy Hield. (AP)
#By RENALDO DORSETT
#Tribune Sports Reporter
#rdorsett@tribunemedia.net
#THE NBA has proposed a format to complete the 2020 season with a limited number of participating teams which will include both Buddy Hield's Sacramento Kings and Deandre Ayton's Phoenix Suns.
#According to ESPN Senior NBA Insider, Adrian Wojnarowski, the league's board of governors will vote on a proposal for the league to resume play in Orlando, Florida, featuring the 16 teams currently in playoff position, teams currently within six games of eighth place in the two conferences.
#The Kings are 28-36, No.10 in the Western Conference and 3.5 games behind the No.8 Memphis Grizzlies (32-33) while the Suns are 26-39, six games behind the Grizzlies.
#Other non-playoff Western Conference teams invited to participate in Orlando include the New Orleans Pelicans, Portland Trail Blazers, and San Antonio Spurs while the Washington Wizards will be the lone addition from the East. All games will be hosted at the Walt Disney World Resort.
#The plan will feature teams completing eight regular season games and a possible play in tournament for the final eighth and final seed.
#If the No.9 seed is more than four games behind the No.8 seed, No. 8 will make the playoffs. If they are fewer than games behind the teams will complete in a play-in tournament.
#Teams will officially begin training at team sites in July and will advance to full training camps in Orlando prior.
#The NBA has suspended its season since March 11, when Utah Jazz centre Rudy Gobert was the league's first player to test positive for COVID-19.
#Players and staff will be mandated to adhere to social distancing and the league is set to have "uniform, daily testing for the coronavirus within the Disney campus environment," said ESPN.
#Should a player test positive, the plan calls for them to be individually quarantined and treated and continue to test other players.
#Through 64 games this season, Hield is averaging 19.8 points per game and is shooting 40 per cent from beyond the arc, making 3.8 three-point field goals in about 10 attempts per game. Hield also added 4.8 rebounds and 3.1 assists per game.
#Hield started 44 of those games and was moved to the bench on January 24 and has continued his production post-All-Star break after he won the Mtn Dew 3-Point Contest at NBA All-Star weekend last February.
#This season, Hield has 244 three-point field goals thus far, and was on track to surpass last year's total of 278 and possibly become just the third player in NBA history to make 300 in a single season.
#In his second NBA season, Ayton averaged 19 points, 12 rebounds and 1.7 blocks per game while shooting 54 per cent from the field in 30 games.
#According to Basketball Reference, his player efficiency is ranked at No.35 in the league at 20.5.
#Ayton has missed time this season with a 25-game suspension due to violating the NBA's substance abuse policy. He also missed seven games this season due to an injured ankle, including a withdrawal from the 2020 NBA Rising Stars game at NBA All-Star Weekend.