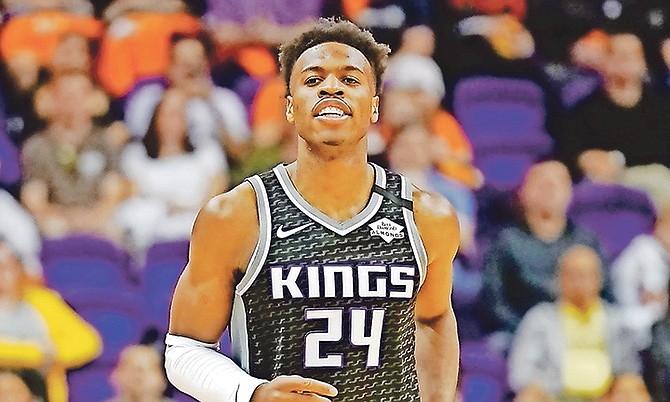 Sacramento Kings guard Buddy Hield.
#By RENALDO DORSETT
#Tribune Sports Reporter
#rdorsett@tribunemedia.net
#THE growing speculation continues to mount about Chavano "Buddy" Hield's future with the Sacramento Kings organisation after different messages emerged from the franchise's head coach and top ranking executive.
#New Kings General Manager Monte McNair expressed his excitement to see Hield "let free" in the team's system, but head coach Luke Walton would not commit to Hield as a full time starter despite the departure of Bogdan Bogdanovic in free agency.
#Hield was the team's leading scorer in 2018-19 and its second leading scorer in 2019-20, but started just 44 of 72 games before he was relegated to a reserve role off the bench in favour of Bogdanovic.
#"I think I've said in the past Buddy's such an incredible talent, and especially his shooting at an elite level is something that we saw this offseason was at a premium. I think we're really excited to see him in this system," McNair said in his pre-training camp media availability. "I think Buddy is going to look really good in [the offence], excited to see him in training camp and how he can progress there. I have the utmost confidence Buddy will continue to play hard every night, like he always has."
#While reports have emerged this offseason that Hield has not spoken with Walton, McNair said the organisation and the fifth year shooting guard are on "the same page" with each other.
#"I've talked with Buddy as well as his agent, I think we're all on the same page," McNair said. "I think we're really excited to see Buddy kind of let free in this system. I think he's going to be fantastic."
#Despite coming off the bench for 28 games, Hield was second on the team in scoring at 19.2 points per game. Hield was removed from the starting lineup in favour of Bogdanovic in January and continued to see inconsistent minutes for the duration of the season, culminating in season low minutes when the NBA resumed play at the "bubble" in Orlando, Florida. Bogdanovic signed with the Atlanta Hawks this offseason and most NBA pundits interpreted that as a sign the organisation would move forward with Hield as the team's starting shooting guard.
#Walton addressed Hield's role during a Zoom conference call in his media availability ahead of training camp.
#"We've got a lot of new faces here, so we have to continue to look at what's going to be best for our team. Even last season, Buddy started more than half of the season, and when he didn't start, he played a huge role for us coming in off the bench and being a dynamic 20-point-a-night scorer," Walton said.
#"Every decision is always based on what I feel is best for the group and best for the team, and with this training camp, this is part of what we have to see: what do we have? What groups are playing well together? Who complements who? And at the end of the day, every decision that gets made will come down to what I feel as the head coach is best for this team and giving us the best chance of winning."
#Hield enters the first year of his new four-year $86 million extension that could reach as much as $106 million.
#"Buddy is a very talented player, I've always had a good relationship with him and we're excited that he's part of the group."
#Following the Kings' regular season finale, Hield spoke with reporters on several topics, most noteworthy was his reply when asked whether he would be content to continue his role off the bench next season.
#"Y'all know me, y'all know how I talk, y'all know how I feel with a lot of stuff, yall can read me well, so I'll let y'all answer that for yourselves," Hield said.
#McNair singled out Hield at his introductory press conference to the franchise and called him an "elite shooter" whose spacing is important for the team.