'Hooping By The Park' Cancelled Due To Covid-19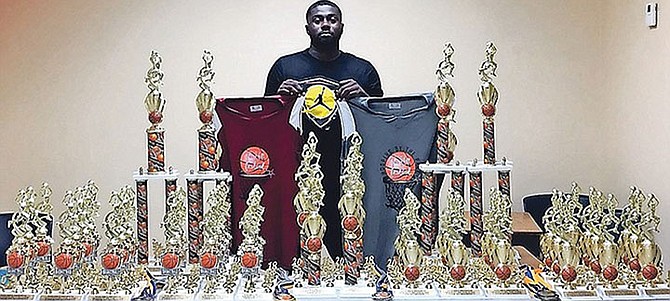 JABARI Wilmott with an array of awards and jerseys for the Hooping by the Park tournament that has been cancelled this year due to COVID-19.
#By BRENT STUBBS
#Senior Sports Reporter
#bstubbs@tribunemedia.net
#COVID-19 has had a drastic effect on sporting events globally. Here at home, a number of organisations are still trying to come to grips with the fact that they may not be able to hold any activities in quite a while due to the health risk involved.
#Hooping by the Park, a non-profit organisation started by former basketball player Jabari Wilmott to provide some social activities for the residents and visitors of the community of Fox Hill, is one of those affected.
#Wilmott announced that his organising committee has decided to cancel this year's tournament, which was to culminate with the annual Fox Hill Day festivities on Freedom Park.
#The tournament, the brainchild of Wilmott and Keron Pratt as their way of giving back to the community, featured competition for boys in the under-16 age group, the open men and a church division.
#Since coming on stream in 2018, the tournament became a staple event, replacing the defunct park league, which provided some wholesome activities for the men in the community.
#"Our goal is to firstly provide a basketball experience that showcases our youths' talents and more importantly use the game to bring our communities together," said Wilmott, a former player for the St Augustine's College Big Red Machine who went on to play for the Johnnies at St John's University in Collegeville, Minnesota where he graduated in 2016.
#"Over the last two years, we have had the privilege to work with over 150 young males from various communities. Many travelled to the historic Fox Hill Park from neighbourhoods such as Bain Town, Carmichael, and Pinewood, all sharing one common passion, which is the game of basketbal."
#Wilmott, however, said since they will not be able to stage this year's event, which was expected to get started next month, his committee is now focused on trying to get the third tournament off in 2021. "Some new features to be expected in 2021 are, the addition of a women's division, which we tried unsuccessfully to host last year, as well as charity initiatives within the Fox Hill community," he said.
#"Our team is committed to finding ways to incorporate more than basketball. Basketball cultivates a spirit of comradeship. "Hooping By The Park represents togetherness and creates everlasting memories."
#With the spread of the coronavirus and the rules of social distancing imposed by the Ministry of Health, Wilmott said it was just not feasible for his committee to consider putting on the event this year.
#The Bahamas Government continues to ensure that everybody is safe in the reopening of the economy, and has provided the assurance to the community that Hooping by the Park will be back.
#"Our team encourages everyone to like and follow our social media pages 'Hooping by the Park' for further updates and announcements over the next 12 months," he stated. "We want everybody to be safe in these unpredictable times and know that their health and safety is more important at this time than putting on a basketball tournament."
#Wilmott thanked all of the sponsors who had made a commitment to support this year's event and advised them that while they have had to cancel the event, his committee is still looking for their contribution when they re-brand in 2021.