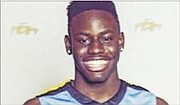 D'ANDRE VILMAR
#By RENALDO DORSETT
#Sports Reporter
#rdorsett@tribunemedia.net
#A TEAM made up of local and foreign-based Bahamian players have had an impressive run on the AAU summer basketball circuit.
#The Bahamas Jaguars, led by St George's head coach Darrell Sears, spent several weeks playing across the United States during the NCAA's "live open" recruitment period.
#The Jaguars' roster was highlighted by some of the top Bahamian high school players, including D'Andre Vilmar of Roman Catholic (Philadelphia, Pennsylvania), Godfrey Rolle and Qymeh Gibson of Sunrise Christian Academy (Wichita, Kansas), Lathaniel Bastian of Doris Johnson, Anderias Blacks of CC Sweeting and a number of others.
#The team recently competed in the Big Foot Hoops Las Vegas Classic presented by Hal Pastner in Las Vegas, Nevada.
#They completed pool play at a perfect 3-0 before they advanced to the main bracket and were eliminated in the second round.
#The Jaguars began the competition with a 72-33 win over South Arlington All Stars (Texas), followed by a 62-45 victory over UpTempo Black (Indiana) and a 61-57 win over Rocktop Nation (Pennsylvania).
#In the championship bracket, Boise Elite (Idaho) were victorious in round one but lost in round two to Northwestern Ohio Bball (Ohio) 72-66.
#Bigfoot Hoops is a company formed and run by Pastner. He has produced and organised premier basketball events for more than two decades. The organisation has created eight major events for the 2016 travel team season,
#Prior to Vegas, the Jaguars competed in the Texas Hoops Great American Shootout in Duncanville, Texas.
#The Jaguars won 57-52 over the Dallas Mustangs to open pool play.They went on to defeat the GCBC Elite-Bullett 69-65.
#Vilmar scored 18 for the Jaguars, with Gibson and Rolle added 13 and 12 respectively. They went on to score a 64-58 win over Oklahoma Impact to advance to the Championship bracket.
#They lost in the opening round to Dallas USA in the NBA Red Championship bracket, 67-60.
#In a previous interview, Vilmar outlined how important the summer is for players on the recruitment circuit.
#"The off-season is a big thing and that's where you get most of your offers. AAU really started in the spring and for me that will continue in July," he said,.
#"The summer ball to me is more important. All the coaches come out and see you and you play in front of every coach you can think of. AAU ball is structured but you get to show your game more than you do in the regular season."
#Sears, the longtime coach of the Jaguars, began the practice of travelling with his players to the United States to gain exposure for his players in the late 1990s.
#Since then, he has been able to forge a network of connections that now affords a greater number of players those same opportunities by showcasing their skills at home in his annual showcase in April.