Track and field classic to be held at Thomas A. Robinson stadium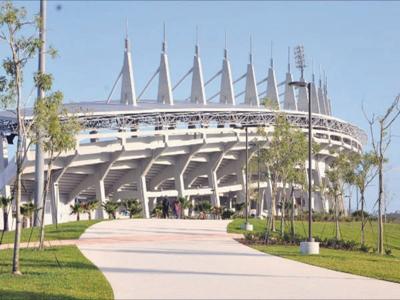 Looking to boost camaraderie among law enforcement agencies, the Bahamas Law Enforcement Cooperative Credit Union (BLECCU) will host the inaugural Law Enforcement Track and Field Classic, set to be held on November 25 at Thomas A. Robinson National Stadium. Action is slated to get away at 1 p.m.
The announcement was made at a press conference that was held at the Bahamas Cooperative League Limited Building yesterday.
Some of the events that will be featured are over-45 50 meters (m), 50m commanders or assistant executive race, men and women's open 100m, 400m, and 800m. There will also be the 4000m walk race as well as the 4x100m relay, 4x400m mixed relay and shot put events. Apart from the conventional events, there will be a lime and spoon race, a three-legged race, a sack race and a tug-o-war.
Chairman of the BLECCU Omar Neely said that this event is in tandem with the principles of the cooperative.
"Our board of directors saw it fitting to bring together our membership in a spirit of camaraderie and bolster brotherhood among law enforcement by having a track and field competition," Neely said.
Chief Superintendent of the RBPF Damien Robinson reminisced about having an event like this back in the day and said the law enforcement branches have always been competitive.
"From the police standpoint, we have our team, we're getting ready and we have one of the Olympic 'Golden Knights', Ramon Miller. He is a police officer now and I can tell you, the police, we're training, we're getting ready and we're ready to win it all. So, I could say to my other law enforcement brothers and sisters who come – bring your 'A' Game because the belief force will be in full effect," said Robinson.
Miller said he is hoping the other agencies show up.
"We're going to bring it," Miller said. "I hope the other agencies show up and be prepared for what's to come. All of our officers have being training. We have a selected few to be a part of this, so we can represent the RBPF and of course to build camaraderie with the other agencies."https://ba402269d4c6d40028292dc6a35daa93.safeframe.googlesyndication.com/safeframe/1-0-40/html/container.html
Petty Officer in the RBDF Denise Oliver said the defence force is ready for competition.
"We are ready, prepared, bringing our 'A' game and are coming to win," Oliver said. "As you know, fitness is our aim and that's at our forefront at the RBDF. We must represent. We are coming to take the gold. Presently, we have 50 people who are making up a part of our team. We are starting our practices next week and so we are excited and elated. We're looking to capture the gold in the different categories."
BDOCS Corrections Officer Rakita Morley said they are not backing down despite being the underdogs.
"We're coming out there and we're going to show everyone that we don't just sit at the jail desk, but we're going to put on our sprints, run them races and make sure we're going to take this back home. We're going to do this the right way and we're going to make sure that everyone is having fun. So, it's not just going to be competitive for us, but we want to create also, as the name states, the bond," Morley said.
Representative from the Bahamas Department of Immigration Eva Knowles said that they are not to be taken lightly or underestimated. They have put together a small team and will be looking forward to participating at the meet in the spirit of camaraderie.
Chief Clerk at Bahamas Customs Matice Rolle did not have a lot to say but added that they are the revenue tax collectors and will be collecting all the gold come November 25.
Grace Bostwick spoke on behalf of the Judiciary of The Bahamas and said that they asked the judges, registrars, magistrate and line staff to show the other law enforcement agencies who they are.https://ba402269d4c6d40028292dc6a35daa93.safeframe.googlesyndication.com/safeframe/1-0-40/html/container.html
Neely is urging the Bahamian public to come out and support the event and find out who is victorious.
The meet is sponsored by Colina Insurance, the Royal Bahamas Police Force Staff Association and the Bahamas Cooperative League Limited.