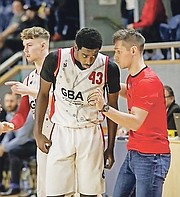 WILKENSON "Kenny" Isnord has signed a three-year deal with Get Better Academy to continue his basketball career in Europe.
#By RENALDO DORSETT
#Tribune Sports Reporter
#rdorsett@tribunemedia.net
#WILKENSON "Kenny" Isnord will officially join Get Better Academy (GBA) in Prague, Czech Republic, as he makes his transition to pro basketball.
#Isnord, a prospect of the Raw Talent organisation, signed a three-year deal with GBA to continue his basketball career in Europe.
#"I am very excited about this opportunity with GBA Academy," he said. "It has been a very rough year but amidst all the adversity, I never lost my trust and faith in God. It is truly a blessing and I can't wait to get to work and see what the Lord has in store for me."
#According to the organisation, GBA is "a private international basketball academy which through effective training programmes specialises in maximising basketball potential of its players." Their mission statement is geared towards helping players "individually develop players and based on their goals provide them with opportunities to either sign a professional contract or receive a full scholarship to American University."
#GBA has facilitated over 25 players through its programme to NCAA Division I programmes and professional leagues throughout Europe in recent years.
#An athletic 6'9" forward known for playing above the rim on both ends of the floor, Isnord said his game has grown exponentially since he transitioned to the US and looks for even further development at GBA.
#Director of GBA Julien Betko looked ahead to what he expects Isnord to provide the programme. "We are tremendously excited that we signed a three-year contract with Bahamian prospect Wilkenson Isnord. He is bringing world class athleticism to our team and I think he will be a force for us on both ends of the floor," he said.
#"Kenny spent three months with GBA last season and his improvement was incredible. It convinced us that he is not only physically talented but also extremely hard working, ambitious with great character. This combined with our developmental programme makes us thrilled about Kenny's future."
#In early 2019, Isnord was a fast-rising prospect in the Florida AAU circuit. He committed to join the Florida International University Panthers out of DME Academy in Daytona, Florida. Isnord chose FIU over Appalachian State, Florida Gulf Coast and Virginia Commonwealth University. He also drew interest from Virginia Tech, Masachusettes and Louisiana Tech.
#Eligibility issues prevented Isnord from taking the opportunity with FIU and he had to re-evaluate the next step in his career, prior to joining Raw Talent.
#During this time period, he was at home in Abaco and survived the ravages of Hurricane Dorian along with his family. Like many residents of the island, the Isnords lost their home in the storm.
#"I'm super excited for Kenny. He's a laser focused young man and the sky's the limit for him. My work with Kenny started about early 2019 when [Bahamas Basketball Federation] President Bowleg asked if I can assist because he was having issues returning to America for his D-I Scholarship. I invited him to my Raw Talent summer programme and he also competed with us in the Summer of Thunder Invitational," Raw Talent founder, Kino Burrows, said.
#"He's a high character young man and he's a workhorse. First in the gym, last to leave. He can do everything on the floor. They have high expectations of him because they've raved about his growth over the past few months.
#Isnord received several tryout opportunities where Burrows currently plays professionally in the French LNB League.
#"I had coach Quentin Demeritte come to France to train with Kenny while we sought an opportunity. We found that opportunity in the Czech Republic," Burrows said, "He was there longer than expected because of COVID but we were looking for a long term development based opportunity where Kenny could play high level basketball and grow at the same time."
#Isnord first started to receive high major offers from Division I programmes, following his standout summer on the AAU circuit when he reclassified to the 2019 class and joined Showtime Ballers during his junior season.
#Isnord concluded his high school career with the Blanche Ely Tigers in Pompano Beach, Florida before transitioning to DME Academy for a prep season. He was named All-Broward Third Team for Boys' 9A-7A Schools by the Sun Sentinel, and through 30 games he averaged 6.7 points, 6.4 rebounds and 2.2 blocks per game as the Tigers claimed the Class 8A state title.