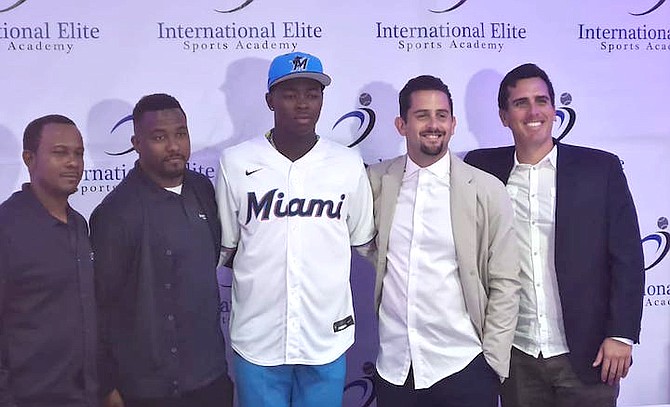 SHOWN, from left to right, are Geron Sands, Albert Cartwright, Janero Miller, Adrian Lorenzo and Adrian Puig at yesterday's signing. Photo courtesy of Trevere Saunders
As of Wednesday, January 18, 2023
#By BRENT STUBBS
#Senior Sports Reporter
#bstubbs@tribunemedia.net
#Two years after he started playing baseball as a "late bloomer" at age of nine, Janero Miller said it was always his dream to become a professional player.
#Last night, he accomplished that dream when he signed his first contract with the Miami Marlins organisation.
#Before a large crowd of family members, team-mates from the International Elite Baseball Academy and friends in the foyer of the Thomas A Robinson National Stadium, Miller made it official with the Marlins, who were represented by their director of international operations Adrian Lorenzo and international crosschecker Adrian Puig.
#Miller, decked out in a aqua suit with white shirt and tennis, depicting the colours of the Marlins' outfit, thanked God for getting him to this point in his life.
#"My biggest contributor was my mother Crystal (Swain). She made so many sacrifices for me," he said. "When she got off at midnight, she would still get up and got me to practice for 6:30am. She was there for every game and many practices. She told me that I could do it during times that I felt like giving up.
#"I also appreciate my dad (Astlolin Miller), who taught me how to be a good man and how to be responsible. You brought me my very first baseball equipment and it felt like it was gold.
#"Mr Burrows (Lyrone), I also want to thank you for being a father-figure to me and that includes contributing to all of my needs."
#Miller also thanked his family, especially his grandmother, aunts and uncles and everyone who participated in the fund-raising events to assist him in his venture into baseball.
#He also thanked Commonwealth Bank, Bank of the Bahamas, ICS Security, Oxford Law Chambers, Jubilee Gardens Youth Auxiliary Committee, the Ministry of Youth, Sports and Culture and the Bahamas Baseball Association, for assisting him financially in achieving his dreams.
#He recognised all of the coaching staff and administrators of I-Elite, but was even more appreciative of Albert Cartwright and Geron Sands, whom he called role models who pushed him beyond his limits. And he expressed his gratitude to Lorenzo and the Marlins for giving him the opportunity to play at a higher level and continue on his dream.
#"This is just the beginning for me," said Miller, who encouraged his fellow I-Elite players left behind to "work hard and stay focused. The results won't be there immediately. You have to trust the process. Never give up."
#In releasing her son to the Marlins, Swain said she was overwhelmed as her "everything" left her.
#"I'm elated for him. He's been working so hard. He's very disciplined. He's just an amazing person and I'm so very proud of him," she said. "I will miss him. He's my only child. It's s process that I have to go through because it's only been the two of us.
#"But I know he's going on to bigger and better things, so I'm expecting some great things from him. He's going to the Marlins, his favorite team, so I know he will do very well."
#Lorenzo said just looking at the amount of people who showed up to support him in his signing is an indication of how special he is.
#"Crystal, having heard everything, you're raised a wonderful young man. Congratulations. I really mean that," Lorenzo said.
#"Janero, the hard part starts from here. This was the easy part. So I want to congratulate you."
#Puig said he got to know Knowles about a year and-a-half and from the moment he saw him, he was impressed with the switch hitting, centre fielder, who runs a 6.5, has power and he pitches too, is left fielder up to 92.
#"The difference is the type of kid this is and I say kid now, but when I talk Adrian (Lorenzo), I say this is a grown man. He's not a 16-year-old kid or a 17-year-old kid. I genuinely mean it, I am so impressed. Janero, the moment you get to our Dominican Academy, I expect you to be a leader there and I expect you to be a leader every course of the way. I know you will fulfil that."
#Lorenzo said when he started coming to the Bahamas and working with Sands and Cartwright, he knew that the Bahamas would become a market for the Marlins to pursue and it's working out that way with the number of players they continue to sign every year.
#Sands noted that he spent countless hours late in the night working with Lorenzo and the Marlins to get the deal completed for Miller. He also thanked the Marlins for their belief in I-Elite Academy.
#"Janero is one of the most athletic baseball players that I've ever developed," Sands said.
#"He's a switch hitting centrefielder that can 92 miles per hour off the mound, can run a 6.5 60m and can hit a ball 400 feet from both sides of the plate."
#Additionally, Sands said Miller is a leader on and off the field, an excellent student, who is very caring and mature. "It's been an absolute pleasure to mentor and develop Janero Miller from the age of 11," he said.
#Cartwright said the past few years, he was talking to Miller about this day and now it's finally here.
#"It's a proud moment to see Janero take this next step in dreams to get to the big leagues," Cartwright said.
#"It's also a sad moment for me because of the last few years, Janero has been under my wings.
#"There have been so many obstacles that we had to go through with Janero being a pitcher and a position player.
#He had to put in double work to get to this point and we thank his mom and his family for trusting I-Elite to get this done."
#Cartwright noted how Miller contracted COVID- 19 during a trip to Florida, but he had to wait about two days before he told Swain and Miller that he had it.
#He said he was just glad that he survived it and now he can embark on the next journey in his life with the Marlins.
http://www.tribune242.com/news/2023/jan/18/its-official-janero-signs-marlins/?news