Switch to draftPreview(opens in a new tab)UpdateAdd title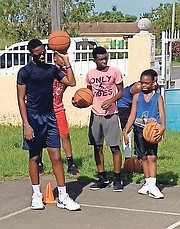 CAMPERS get ready for a basketball drill.
#By BRENT STUBBS
#Senior Sports Reporter
#bstubbs@tribunemedia.net
#FOR the next four weeks, Neville 'Manny' Adderley will be holding court as he conducts his Power One Summer Basketball Camp at the St Gregory's Anglican Church on Carmichael Road.
#With the country coming out of the lockdown during the spread of the coronavirus, Adderley said they decided to begin the camp on Monday with daily sessions held from 9am to 1pm.
#"We're just teaching them the fundamentals of the game," said Adderley, who also runs Manny's Point Guard School for the younger players and a developmental club for the older players on Saturdays.
#"We have an opportunity to put them in some small group training and strength training. It's more personal for their ages. We have kids who are 16. We have 14-year-olds and we even have seven and eight-year-olds."
#With about two other instructors assisting him, Adderley said they get to provide the players with a more personal, hands-on approach.
#As this is the summer, Adderley said he wants to provide some wholesome activities for the young ball players to participate in and, at the same time, allow them to develop their skills. "We have strength training for most of our 16-year-old campers," he said. "We watch them as they play. If they are deficient in shooting the ball, we provide him with the additional strength training.
#As one of the premier point guards coming out of the LW Young Golden Eagles era, Adderley, who is also a personal fitness trainer, said he decided to give back to the community through his basketball club and summer programme.
#"We've always had a challenge with legitimate shooters in the country, so that's our main focus," said Adderley, who was known for his shooting skills in high school, college, night league and with the national basketball teams.
#"We want to get our kids to shoot the ball the way they should be shooting it. So after our strength training, we have a lot of shooting drills, which forces them to concentrate a lot more because they won't have the energy that they had before they started."
#Randy McFall, one of the instructors and a 2013 graduate of Jordan Prince Williams High School, who went on to play division II football as a linebacker at Bowie State University, said he got to know Adderley through his son, Daejour. "Manny was like my father. He grew me up from I was a young boy, so it's no problem coming back here and helping him out," said McFall, who will graduate in December with a degree in digital cinematography. "Me and his son, Daejour, played sports all of our lives, trying to make sure that we got out here to further our education. It worked for us, so I am happy to come out here and help out."
#McFall said he wants to encourage the campers to make the best of their opportunity through these sorts of camps, which are designed to help them improve their skills.
#"We know everybody wants to play pro sports, but it's not going to happen for everyone," he said.
#"So I want to encourage them to improve their skills and their grades so whenever the opportunity does come for them to go to college, they will be ready."
#Once they can get into college, McFall said the possibilities are endless.
#"You can ask yourself. Do you want to go pro or do you want to pursue a craft or something," McFall pointed out.
#"Do I want to play basketball or football, am I studying media or politics? Do I want to come back and help my country out and still be able to make money?
#"If you believe in your dream, I want to encourage them to stick with it. Your parents will always be there to support you in whatever you do, but they don't always have to believe in your dreams. You have to make them believe in it. But if you tell them about it, they will be right there behind you."
#As for the camp, McFall said Adderley is trying to use sports as a vehicle to get other young players off to school and that is why he decided to come back and assist him.
#Nasir Hanna, a seven-year-old student of Queen's College, said he came to the camp to learn how to shoot. "It's been good," he said. "I like basketball. I like scoring."
#His younger brother, Sadiq Hanna, is only five but the Queen's College student also likes the camp.
#"The camp is good," he said.