Jasmine Mackey misses CARIFTA-qualifying time
As of Monday, February 13, 2023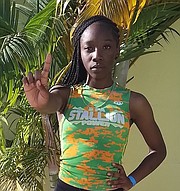 JASMINE MACKEY
#By BRENT STUBBS
#Senior Sports Reporter
#bstubbs@tribunemedia.net
#IN a gutsy performance on Saturday at the Road Runners' Dianna Lynn Thompson's Memorial Track Classic, middle distance runner Jasmine Mackey came so close to eclipsing the qualifying standard for the girls under- 20 1,500 metres for the 50th CARIFTA Games.
#Mackey, competing for the 3 PA Stallions, pulled away from the pack early in the 3 ½ laps race in the Thomas A Robinson Track and Field Stadium and maintained her lead to go through the finish line in five minutes and 09.63 seconds. However, she needed to run 5:00.36 to qualify for the games, scheduled for April 7-11.
#Despite falling short, the 16-year-old Mackey said she was still pleased with the run, but she admitted that she still has some work to do on her finish.
#"It was not too hard. I had a little of wind on the backstretch, but it was an easy win," said Mackey, who contested her first 1,500m for the year. "My previous best was 5:37, but I got a lot lighter than I was last season. I'm looking forward to qualifying for CARIFTA, making the team and going for a medal here at home."
#There were some qualifiers, starting on the track with Panthers' Track Club's Kenny Moxey Jr sailing over the bars to clock 15.60 to surpass the standard of 15.65 in the under-17 boys 110m hurdles. Second place went to SunBlazers' Kerch Mackey in 18.45.
#Koi Adderley of Fast Forward was the lone competitor in the under-20 girls' high jump, but that didn't discourage her from attaining her goal as she duplicated the standard to qualify. She also took the long jump with a leap of 5.31m, but just missed the standard of 5.51m.
#In the under-17 girls high jump, Andros Heats' Tylah Pratt scored 1.57m to match the standard. Alexandria Komolafe of Xtreme Athletics was second with 1.55m and Paris Rolle of Leap of Faith got third with 1.49m.
#Demian Brice II of Xtreme Athletics leapt, hopped and jumped 13.06m to win the under-17 boys triple jump to surpass the standard of 12.94m. Jayden Cooper, of Speed Capacity, was second with 12.88m and Davon Davis of the T-Bird Flyers was third with 12.10m.
#Triple Threat's Terrell McCoy, already qualified, dipped under the standard of 12.56m with her winning heave of 13.26m in the under-17 girls shot put. Her closest rival was Danielle Nixon of Blue Chips, who got second with 11.43. Her team-mate Anthonece Papageorge was third with 9.34m.
#In other events of note, Air Assaults' Nathaniel Zervos won the under-20/ open men's javelin with a heave of 51.27m, just missing the standard of 51.78m.
#Samson Colebrooke, unattached, won the men's 100m in 10.78.
#Andrew Styles of 90 Degrees, who was second in 10.80, won the 200m in 21.81, Kaiya Cambridge of Power Athletics took the women's 400m hurdles in 1:10.12, Berkley Munnings was the winner of the men's 400m hurdles in 58.39, Deedro Clarke of RK Athletics won the men's 400m in 47.21, Quinton Ellis of Phoenix Track took the men's 800m in 1:56.49, Christopher Saintus of Swift Athletics won the 5,000m in 16:48.34.
#Road Runners' head coach Dexter Bodie thanked God for the wonderful weather they experienced to complete the meet on time,
#"Today was a nice, hot sunny day," he pointed out. "We had a few qualifiers today as well, so I want to give thanks to our sponsors, Y Buy, We Sell, Summit Insurance and Family Medical Center, Blake Road. They made this meet a success.
#"We had a record breaking number of over 800 athletes. It was not expected, but we want to thank God for smooth sailing. Our meet director Bernard Newbold did a wonderful one getting the races lined up one after the other in a timely fashion. We just give God thanks and pray for another successful year."
#In some of the other events contested, here's a look at the age group divisional winners:
#Girls under 7
#100m – Erin Strachan of Kids Athletics in 19.69 with team-mates Kaiyah Romer (20.10) and Amila Munnings (24.37) in second and third respectively.
#150m – Strachan got the win in 30.80 with Romer second in 32.17 and Munnings third in 39.27.
#Boys under-7
#100m – Kaden Bullard of Swift Athletics won in 18.55 with Leslie Munnings Jr of Kids Athletics second in 18.84 over his team-mate Jace Merus in 19.88.
#150m – Bullard also won in 28.44 with Munnings Jr second in 30.51 nd Merus third in 30.66.
#Girls under-9
#100m – Christovia Moss of Beginners Track Club won in 15.53 with Red- Line Athletics' Jazmyn Demeritte second in 15.57 and Kasey Rolle of Beginners Track third in 17.50.
#800m – Monae Miller of Unique Athletics won in 3:17.15 with Beginners Track's Melody Thompson (3:20.23) and Christovia Moss (3:22.48) second and third respectively.
#Boys under-9 boys
#100m – Nathan Smith of 3 PA Stallions won in 15.51 with Daython Ingraham of Swift Athletics second with 15.75 and A'Ky Wilson of Kids Athletics third in 16.59.
#800m – Caiden Bain of Hurry Murray won in 3:10.18 with Nathan Smith of 3 PA Stallions second in 3:15.55.
#Girls under-11
#100m – Jaelyn Munroe of DTSP Wolkpack won in 15.56 with Kids Athletics' Christyn Gibson second in 16.02 and Shayne Hutchinson of Unique Athletics third in 16.34.
#400m – Elexia Strachan of Kids Athletics won in 1:18.81 over team-mate Dazariah Bullard (1:25.18).
#800m – Strachan also took the tape in 2:58.43 over Hurry Murray's Mikhala Strachan (3:13.26).
#Boys under-11
#100m – Jayden Jones of Unique Athletics won in 15.00 with George Brown of Swift Athletics second in 15.03 and Avery Johnson Jr of Unique Athletics third in 15.38.
#400m – Stafford Sweeting of Hurry Murray won in 1:11.78 with Jayden Allen of Red-Line Athletics second in 1:11.85 and Jade Ferguson of Swift Athletics third in 1:15.47.
#Girls under-13
#400m – Rocelis Moxey of Swift Athletics was the winner in 1:06.05. Taree Forbes of Boost Athletics was second in 1:07.28 and Cierra Delancy of Red-Line Athletics third in 1:07.47. 800m – Victoria Sandi-Aguilar of Unique Athletics won in 2:35.33 with Delancy second in 2:35.41 and Imani Collie of Striders third in 2:46.63.
#Boys under-13
#100m – Justin Shepherd of Swift Athletics was the winner in 13.55 with Tyrone Johnson of Spirit of Excellence second in 13.60 and Jacob Pickstock of Swift Athletics third in 13.76.
#400m – Ayden Russell of Unique Athletics won in 1:03.05 with Fast Forward's Demih-Devaj Cash second in 1:05.70 and Johnson third in 1:07.67.
#800m – Adrian Woodside of T-Bird Flyers won in 2:43.03. Ramonick McLennon of Hurry Murray was second in 2:45.41 and Ayden Rolle of Striders was third in 2:48.60.
#Girls under-15
#100m – Vanessa Mackey of Alliance Athletics took the win in 13.18 with Zara Fraser of Fast Forward second in 13.28.
#Brion Ward of DTSP Wolfpack placed third in 13.34.
#200m – Sarsha Wright of Team Velocity won in 25.80 with Jasmine Thompson of the Roadrunners second in 26.29. Ward was third again in 26.35.
#400m – Thompson won again in 59.32 with Wright second in 1:02.20 and An Butler of Bahamas Speed Dynamics third in 1:03.21.
#800m – Ramonique McLennon was the winner in 2:31.86 with Denika Gitten of Roadrunners second in 2:39.89.
#Long jump – Kelly Deveaux of T-Bird Flyers won with 4.70m. Johnell Marshall of Kingsway Academy was the runner-up with 4.40m.
#Shot put – Quick Step's Keila McPhee won with a heave of 8.83m and T-Bird's Alexis Wright was second with 8.21m.
#Discus – McPhee got another win with 24.88m, while her team-mate Paris Leonice was second with 17.38m.
#Boys under-15
#100m – Red-Line Athletica' Eagan Neely won in 1.569 with Fast forward's Rohman Role second in 12.05.
#200m – Neely again won in 22.81 with his team-mate Shevano Nixon second in 23.07.
#400m – Nixon was the winner this time in 53.52 with Noble Preparatory's Dario Butterfield second in 56.89.
#800m – Butterfield took the win in 2:21.95 with Rion Larrimore of Hurry Murray second in 2:23.82.
#Long jump – Quick Step's Terrin Beckles won a leap of 5.12m with Jachario Wilson of Noble Preparatory second with 4.90m.
#Shot put – Dayaje Brown of Triple Threat was the lone competitor, winning with 6.07m.
#Discus – T-Bird Flyers' Davis Douglas won with 30.08m and Brown got second with 15.60m.
http://www.tribune242.com/news/2023/feb/13/jasmine-mackey-misses-carifta-qualifying-time/?news