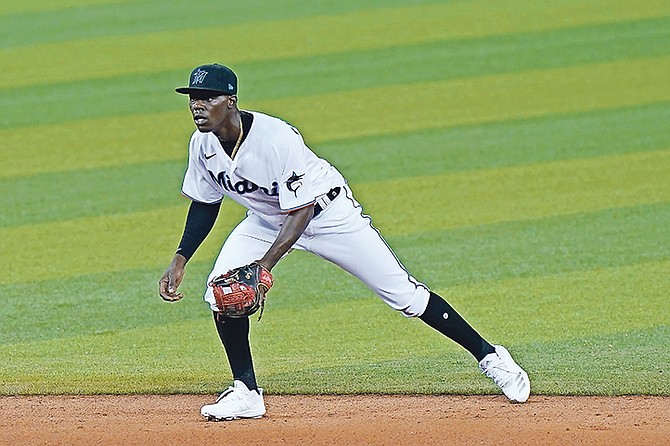 Miami Marlins infielder Jazz Chisholm is shown during the eighth inning of a baseball game against the Toronto Blue Jays on Tuesday, September 1 in Miami. (AP Photo/Wilfredo Lee)
#By RENALDO DORSETT
#Tribune Sports Reporter
#rdorsett@tribunemedia.net
#One night after his Major League Baseball debut, Jasrado "Jazz" Chisholm got the first big league start of his young career for the Miami Marlins.
#Filling in at shortstop for an injured Miguel Rojas, Chisholm went 0-4 in the Marlins' 2-1 loss in their second game against the Toronto Blue Jays in as many nights at Marlins Stadium in Miami, Florida.
#Defensively, Chisholm saw action early in the first inning when he threw out Jonathan Villar attempting to stretch a single into a double to retire the side.
#He caught a pop fly to retire Cavan Biggio in the eighth and had a busy ninth when he fielded a pair of groundballs, one to throw out Villar at first and the other an error in an attempt to throw out Teoscar Hernandez.
#At the plate, he struck out on four pitches in his first at bat, the final a curveball on the outside corner to end the inning with runners on second and third.
#In the fifth, Chisholm lined out to centrefield and in the seventh, he lined out to right field on a 2-2 count in his third plate appearance. In his final at bat, he flied out to centrefield in the bottom of the ninth.
#The Marlins dropped to 16-16 and face the Tampa Bay Rays tomorrow night at 6:40pm.
#Chisholm made his historic debut Tuesday night in the first game of a back-to-back against the Blue Jays at Marlins Stadium. The Marlins won 3-2.
#The 22-year-old made his major league debut as a defensive substitute in the top of the eighth inning for shortstop Miguel Rojas, who left the game because of a sore abdomen.
#Rojas is listed as day-to-day on the team's official injury report.
#On the very first pitch he saw defensively, Biggio hit a line drive shot directly to Chisholm who fielded it for his first MLB out.
#"Not the hardest line drive I've ever caught but it did slow the game down a lot more after that first pitch came at me," he said.
#Primarily a shortstop throughout his career, Chisholm will reportedly see time at secondbase in the big leagues playing alongside Rojas once he returns from injury.
#"I got plenty of work done [at the alternate training site] in Jupiter at secondbase and they told me I had a chance to play it. We've been working on second and short everyday, just getting better and I feel we put in enough work to get it done. I feel comfortable at either position. You can put me anywhere on the field, anywhere in the lineup and I'll be comfortable."
#Chisholm said he has taken to the Marlins' family atmosphere, everyone from part owner and Hall of Fame shortstop Derek Jeter to the players in the clubhouse.
#"We had a small talk, it was really just him telling me to keep working hard, trusting the process and getting my work done everyday," Chisholm said of his recent conversations with Jeter. "Everyone has taken me under their wing as best as they can to help me fit in and feel wanted here and to keep going with everything in our family atmosphere. We are going to win as a family, we are going to lose as a family and I'm very excited to be here for that reason because they treat everything as family."
#Chisholm was set to make his 2020 debut in AAA baseball with the Wichita Wind Surge of the Pacific Coast League.
#He spent spring training and summer camp with the main squad after he was named to the 40-man roster. He missed the opening week of summer camp and was in quarantine after a series of positive and negative COVID-19 tests despite not experiencing any symptoms. After the Marlins made a series of trades prior to the deadline, Chisholm got the call to become the seventh Bahamian called up to the majors.
#"It was like a wild ride. The first thing I did was call all my family members. They were just ecstatic and started getting very emotional. It was a really touching moment for me knowing how far I came. On my way to the field I just had to say I wanted to clear my mind and help the team win. I was glad I was able to get into the game and to just get the first step and the onfield jitters out, but I'm just happy to be here," Chisholm said, "At the point I got the call I wasn't thinking of it. I was getting dressed for another game in Jupiter and I got called into the office. They just told me I was going to the show and to get my bags ready."
#A product of the Freedom Farm Baseball League, Chisholm said he remains cognisant of his role as an inspiration to future generations.
#"Everyone was telling me they were so proud of me and that I'm an inspiration to them and some of them were the guys that I was looking up to when I was younger so it touches me that I can touch anyone's heart in the Bahamas. We know how the struggle has been back home for the past year with COVID-19 and I got called up to play on September first which makes a year since Hurricane Dorian passed, so all of that made it a special time for me," he said, "Having my debut in Miami the closest place to home when I can't be home, I'm always at a loss for words when I think of it. Getting called up to a playoff potential team, and i believe we're going to make the playoffs, it's just amazing. I think the whole Bahamas are Marlins fans now."
#Marlins manager Don Mattingly said Chisholm will have the opportunity to produce and earn his spot in the rotation with the club.
#"Who knows where this goes? But for now, Jazz is a guy that's going to be part of our club. We just move forward until whenever. He may never ever leave here, right? You don't know that. These young guys, they could go back and forth, but some guys come up one day and just say, 'You know what? I'm never leaving.' And they prove it." Mattingly said to MLB's Jesse Sanchez, "He's working hard and actually been playing quite a bit of second base, and that's kind of where we see his niche or fit with our club, playing some second, maybe giving him a day at short now and then," Mattingly said. "Jazz is part of the club right now, so we'll try to fit him and set him up to have success and put him in good situations."
#The No.3 ranked prospect in the organisation, Chisholm was listed at No.74 overall among the top 100 Prospects by MLB Pipeline. He made nine spring training appearances and hit .308 with three RBI, one home run, scored four runs, with a 1.115 OPS and two stolen bases.
#Last season, Chisholm was named the top defensive shortstop in the AA Southwest League and earned an All-Star selection after he led all the league's shortstops with 21 home runs and 173 total bases.
#In 112 Southern League games last season with Jackson Generals and eventually with the Jacksonville Jumbo Shrimp, Chisholm batted .220 with a .321 OBP, a .441 slugging percentage with 10 doubles, seven triples, 21 home runs, 54 RBIs and 16 stolen bases. He finished in a tie for second in the in home runs and fourth in triples.