MIAMI Marlins prospect Jazz Chisholm gives some pointers to young, aspiring baseball players during a clinic in conjunction with International Elite-Sports Academy at the Pinewood Gardens baseball field. Photo: 10th Year Seniors
As of Tuesday, January 7, 2020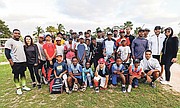 #By RENALDO DORSETT
#Tribune Sports Reporter
#rdorsett@tribunemedia.net
#MIAMI Marlins prospect Jazz Chisholm hosted youth baseball players to a clinic in conjunction with International Elite-Sports Academy at the Pinewood Gardens baseball field.
#After several hours of training in the fundamentals at various skill positions, including hitting, fielding and pitching, participants were presented with give-aways of Marlins gear and memorabilia.
#As he continues to progress in the Marlins organisation, Chisholm said he hopes it allows more opportunities to give back to local baseball development.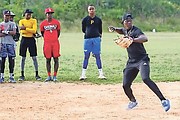 #"Talking to the kids is always important because I want to remind them that once they trust in themselves and believe in themselves they can make it in life no matter what they choose to do.
#"It's always important to talk about the information you need to gather to become a professional baseball player. I actually learned a lot from the kids today," he said. "I'll be home a lot more now that I'm closer to home and I'll be coming home a lot more for camps now when I can. I always want the younger guys to be able to say that 'Jazz helped me to be successful' with whatever they choose to do, it doesn't have to be baseball or any other sport because I don't just talk to them about baseball, we talk about life."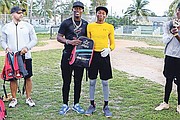 #Chisholm was recently named to the Marlins' 40-man roster, protecting him from the MLB's Rule 5 Draft. He also competed for Criollos de Caguas in the Puerto Rican Winter League. He was ranked at No.55 on the list of MLB's Top 100 prospects at the conclusion of the 2019 minor league season.
#Chisholm was named the top defensive centre in the Double-A Southwest League and his advancement to Double-A baseball this season produced a Southern League All-Star selection after he led all the league's shortstops with 21 home runs and 173 total bases.
#In 112 Southern League games this season with the Jackson Generals and eventually with the Jacksonville Jumbo Shrimp, Chisholm batted .220 with a .321 OBP, a .441 slugging percentage with 10 doubles, seven triples, 21 home runs, 54 RBIs and 16 stolen bases.
#He finished in a tie for second in home runs and fourth in triples.
#Chisholm was traded from the Arizona Diamondbacks to Miami for starting pitcher Zac Gallen.
#Following the trade, in 23 games with the Jumbo Shrimp, he hit .284 with a .383 OBP and a .494 slugging percentage with four doubles, two triples, three home runs, 10 RBIs and three stolen bases. Chisholm joined the roster of Jay-Z's Roc Nation Sports just over a year ago.
#Roc Nation Sports is a sub-division of Roc Nation, launched in spring 2013 by music mogul Shawn "Jay-Z" Carter.
#The organisation lists one of its chief objectives as "supporting athletes in the same way Roc Nation has been working alongside and advocating for artists in the music industry for years."
#According to its website Roc Nation Sports focuses on elevating athletes' career on a global scale both on and off the field, including facilitating marketing and endorsement deals, community outreach, charitable tie-ins, media relations and brand strategy.
#"Roc Nation has helped me a lot, and it's been a big part of my career. They are always there to make things better, they have given me so many opportunities whether it is with deals, meet and greets, social media presence or just any opportunity they have been," he said.
#"I'm approaching it the same way I approach every year with goals, [being with the Miami Marlins] it's just another stepping stone to become a better person, baseball player and an ambassador for the Bahamas."
#Michael Rodriguez, who represents Chisholm, said he was a natural fit for the brand and that other talented young Bahamians may soon follow suit.
#"I knew Jazz before we signed him. I've always known he was the type of player that fits the mold of Roc Nation – somebody that works hard, gives back to the community, somebody that will not only succeed on the field but off the field. We just feel like he's a superstar," he said.
#"The kids that are out here are incredible and I told Geron it's crazy that they don't have the support for major league baseball like they should, if you were to take these kids and put them stateside, two or three years before the draft, these are first-round talent type players. They are athletic, they can run, they throw, they are respectful kids and I feel like, with guys like Jazz and Tahnaj and other Bahamian players that will make it to the big leagues in the next year or two, the talent will become the new hotbed of baseball."
#Tahnaj Thomas, the Bahamas' top pitching prospect, was also on hand to assist with pitching fundamentals.
#"It's always fun to come back and give back to the kids. I always want to help out with the pitching, just helping them with some rights and wrongs and being focused on their throwing programme," he said.
#"The kids are the future. We are pros and we learn from the older guys we are around so we want to come and give back to the younger guys here, to come back and try to make them better."
#In his first season with the Bristol Pirates, Thomas got the start on both opening day and in the regular season finale. He finished with a 2-3 win-loss record which also included 59 strikeouts – the most for any Pirates pitcher since 2012.
#In 12 starts, he pitched 48.1 innings with a 3.17 ERA and 1.12 WHIP.
#Thomas is currently the No.18 ranked player in the Pirates organisation and No.7 among pitchers, according to MLB Pipeline.
#"It's a lot of Bahamian minor league players coming up now but being a pitcher it's even more important for us to show guys we have a lot of talent here," Thomas said. "When that time comes and we do play for team Bahamas we are the guys that will be leaned heavily upon so we have to continue to progress, stay locked in and develop even more pitchers."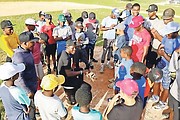 #Geron Sands, I-Elite director, said the organisation prides itself on being a close knit group that is mindful of giving back to the generation.
#"Anytime any one of the pro guys comes back and gives back it's amazing. The guys here love when Jazz is here because he's so down to earth with the guys and it always seems as if he comes back with even more knowledge. He'll get on the field with the guys and show them how to do anything from fielding to footwork. The fields in the Bahamas aren't the greatest but he'll still come back and take ground balls just like anyone else," he said.
#"We try to keep everyone close like a family and I believe in family. I believe that regardless of where you are, we try to stay close just to encourage the guys to come out and work with the young guys in the offseason. They all have their own regimens they go through but they do find time to come back and give to the young guys."