As of Thursday, October 13, 2022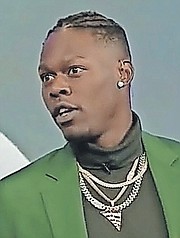 JAZZ CHISHOLM JR
#By RENALDO DORSETT
#Tribune Sports Reporter
#rdorsett@tribunemedia.net
#JAZZ CHISHOLM JR gave the public a glimpse into a future career off the field as he serves as in-studio analyst this week on MLB Network for the divisional playoff rounds.
#The Miami Marlins' All-Star second baseman made his debut Tuesday night following the Los Angeles Dodgers 5-3 win over the San Diego Padres last night in their NLDS series opener.
#Chisholm appeared on MLB MLB Tonight alongside Greg Amsinger, Sean Casey and Harold Reynolds Tuesday night and again last night alongside Matt Vasgersian and Yonder Alonso following Game 2 of the NLDS featuring the Philadelphia Phillies and Atlanta Braves.
#On night one, Chisholm analysed some of the key at bats in Tuesday's gameplay, demonstrating his approach to bunting, and his favourite defensive highlight reel plays of the night in a segment called "Smooth Jazz."
#He continues his in-studio work today when he joins the crew of MLB Central with Robert Flores, Lauren Shehadi and Mark DeRosa at 9am and on MLB Tonight alongside Stephen Nelson, Dan O'Dowd and Xavier Scruggs at 2pm.
#In a 2022 impacted by injury, Chisholm solidified himself as one of the sport's rising stars. He produced an All-Star campaign that included a .254 batting average with 14 home runs, 54 hits, 45 RBI, 12 stolen bases, and scored 39 runs and an .860 OPS through 60 games.
#Since he made his historic MLB debut in September 2020, the 24-year-old infielder has since produced a 5.0 WAR over three seasons with 178 hits, 117 runs scored, 104 RBI, 37 stolen bases, 34 home runs, 31 doubles and nine triples across 205 career games. Chisholm's last appearance on the field in a Marlins uniform was June 28. He originally suffered a back injury early in the season on a slide and eventually re-aggravated the injury in late June, which forced him out of the lineup. He later revealed that he played this season with a torn meniscus which he suffered in training camp.
#At the national team level, Chisholm also recently announced his intention to compete for Great Britain at the 2023 World Baseball Classic. Great Britain recently qualified for the WBC, for the first time in programme history, with its undefeated performance at last month's qualifier in Regensburg, Germany.
#The tournament will be hosted from March 8-21 across several venues.
#Chisholm was one of nine Bahamians on the roster for Great Britain in the 2017 WBC Qualifiers in Brooklyn, New York.
http://www.tribune242.com/news/2022/oct/13/jazz-chisholm-jr-serves-analyst-mlb-network/?news