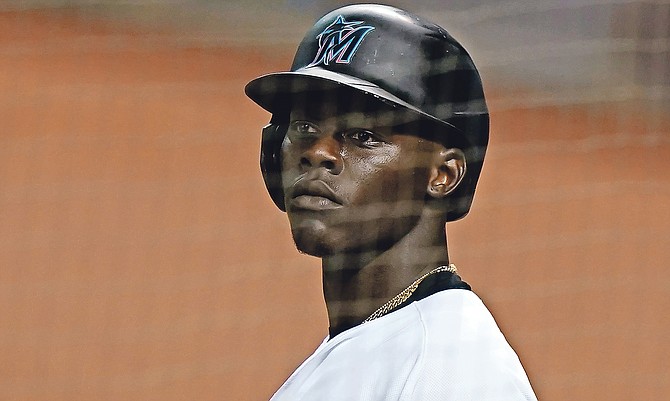 Jasrado "Jazz" Chisholm
#By RENALDO DORSETT
#Tribune Sports Reporter
#rdorsett@tribunemedia.net
#Another day, another career milestone for Jasrado "Jazz" Chisholm.
#Chisholm scored the first run of his MLB career yesterday in his Miami Marlins' 5-4 win over the Atlanta Braves at Truist Park in Cumberland, Georgia.
#Chisholm came up to bat with two outs in the top of the second against the Braves' Ian Anderson. Facing a full count, he reached safely after his grounder was fielded by Anderson but an errant throw sailed high for an error. Chisholm eventually advanced to second.
#Miguel Rojas would follow with a double to left that plated Chisholm and brought the Marlins within one, 2-1. Rojas' fourth hit of the game proved to be the game winner in the 10th inning when he doubled to right centre to score Garrett Cooper.
#Chisholm finished the game 0-4 at the plate but defensively, he was the catalyst for both Marlins double plays on the afternoon. In the first inning it was a "4-6-3" double play and in the ninth it was a 4-3 double play to end the Braves' run and send the game to extra innings.
#The Marlins continue their series against the Braves tonight at 7:10pm.
#It was Chisholm's second start for the Marlins, and his debut at secondbase. "I got plenty of work done [at the alternate training site] in Jupiter at secondbase and they told me I had a chance to play it. We've been working on second and short everyday, just getting better and I feel we put in enough work to get it done," he told reporters on a Zoom call. "I feel comfortable at either position. You can put me anywhere on the field, anywhere in the lineup and I'll be comfortable."
#It was the second consecutive extra innings finish for the Miami Marlins after Sunday's 5-4 loss to the Tampa Bay Rays at Tropicana Field in Tampa Bay.
#Chisholm said he has taken to the Marlins' family atmosphere, everyone from part owner and Hall of Fame shortstop Derek Jeter to the players in the clubhouse.
#"We had a small talk, it was really just him telling me to keep working hard, trusting the process and getting my work done everyday," Chisholm said of his recent conversations with Jeter. "Everyone has taken me under their wing as best as they can to help me fit in and feel wanted here and to keep going with everything in our family atmosphere. We are going to win as a family, we are going to lose as a family and I'm very excited to be here for that reason because they treat everything as family."
#The family aspect of the club has been a sentiment echoed by Jeter since Spring Training in February.
#"Guys are understanding that when you go out on the field, you're expected to compete and you're expected to win," he said. "They're growing closer. You hear players use words like 'family'. That's a good thing. That's how great organisations are built."