Chisholm Jr gives update on injury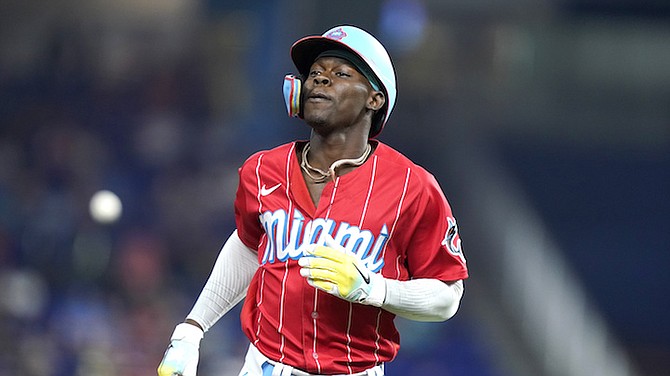 Miami Marlins' Jazz Chisholm Jr. (AP Photo/Lynne Sladky)
As of Friday, September 23, 2022
#By RENALDO DORSETT
#Tribune Sports Reporter
#rdorsett@tribunemedia.net
#Great Britain baseball has an opportunity to field its most talented roster of all time when it participates in the 2023 World Baseball Classic.
#Jasrado "Jazz" Chisholm Jr confirmed his plans to return to the international stage and join Team Great Britain for the second time in his career next March when the best national programmes compete in the fifth edition of the event.
#The Miami Marlins All- Star infielder addressed future national team prospects and his injury status when he joined the Bally Sports broadcast team as the Marlins hosted the Chicago Cubs Wednesday night at loanDepot Park in Miami, Florida.
#"It's going to be sick for me," Chisholm said, "because you're out there and you never really get a chance to ever play with anybody from your hometown or even family members at that. I'm about to get to experience it all."
#Chisholm was one of nine Bahamians on the roster for Great Britain in the 2017 WBC Qualifiers in Brooklyn, New York.
#He had his best game of the qualifier when he finished 3-5, drove in an RBI, scored a run and stole two bases in a 14-0 win over Pakistan. Great Britain eventually suffered a 9-1 loss to Israel in the qualifying game.
#Great Britain recently qualified for the WBC, for the first time in programme history, with its undefeated performance at last week's qualifier in Regensburg, Germany.
#The tournament will be hosted March 8-21 across several venues. Pool A will compete at Taichung Intercontinental Baseball Stadium in Taichung, Taiwan, Pool B and tournament quarterfinals will take place at the Tokyo Dome in Tokyo, Japan, Pool C at Chase Field in Phoenix, Arizona, and finally Pool D, quarterfinals, semifinals and championship will take place at Chisholm's home stadium – loanDepot Park.
#Great Britain will compete in Pool A against Chinese Taipei, Netherlands, Cuba and Italy.
#After a three-year gap between the first two installments of the tournament, plans were made for the World Baseball Classic to be repeated every four years following the 2009 event. The third installment of the Classic was held in 2013, and the fourth was held in 2017. The fifth, originally scheduled for 2021, was postponed due to the COVID-19 pandemic.
#The tournament is being expanded from 16 to 20 national teams, with all teams that participated in the 2017 edition automatically qualifying, plus four additional spots.
#Sixteen teams had already secured a berth in the 2021 WBC – Australia, Canada, China, Chinese Taipei, Colombia, Cuba, Dominican Republic, Israel, Italy, Japan, Netherlands, Korea, Mexico, Puerto Rico, United States and Venezuela.
#Great Britain and the Czech Republic earned two of the most recent tournament berths following their success at the Pool A qualifier in Germany.
#The final two teams in the field will be the winners out of the Pool B qualifier, September 30 to October 5 in Panama City.
#Chisholm's last appearance on the field in a Marlins uniform was June 28. He originally suffered the back injury early in the season on a slide and eventually re-aggravated the injury in late June, which forced him out of the lineup.
#Due to a back strain, Chisholm has been on the injured list since June 29. He underwent a CT scan on July 21 that revealed a stress fracture in his lower back. The Marlins officially ruled him out of a return for the remainder of the season. Chisholm also revealed that he played this season with a torn meniscus which he suffered prior to the season.
#MLB.com reported that Marlins manager Don Mattingly and general manager Kim Ng announced that Chisholm Jr would not return from the injured list for the remainder of the 2022 campaign. He recently underwent surgery to repair the torn meniscus but has already said that he is walking under his own power without the use of crutches.
#"We went and got an MRI. It came back that I tore my meniscus. I asked the doctor, 'Hey, can I play this season? Because I feel like I'm really gonna tear it up this season. So can I play?' And he was like, 'You can but you're gonna be dealing with a lot of swelling every day and all that stuff.' I was like, 'I'll just take care of that and that'd be fine.' And going on, I ended up playing the whole season and just planned to get the surgery after the season," Chisholm said.
#"I went through a lot of swelling and a lot of changing my mind in the middle of stolen bases, kind of slide in different ways. Most of the times I got thrown out was because of my knee and how I was getting into the bag."
#Chisholm is the first-ever Bahamian-born MLB All-Star.
#Through 60 games he had a .254 average with 14 home runs, 54 hits, 45 RBI, 12 stolen bases, and scored 39 runs.
#"We could probably push Jazz to be able to come back and DH or something. I think the risk/reward on that — he has a stress fracture in his back. It's something you could say, 'Well, it's healed, but is it all the way?' It just doesn't seem to be worth it," Mattingly told MLB.com.
#"I think Jazz would like to play, he would like to have played. I think the organisation basically made that decision for him, that we were going to just let this thing go, keep strengthening all year long, so we know going into the winter that he's healthy, he's ready, he's doing everything, he feels great. So again, I think an organisational decision."
http://www.tribune242.com/news/2022/sep/23/jazz-says-hell-suit-great-britain/?news