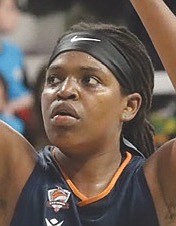 JONQUEL Jones
#By TENAJH SWEETING
#Tribune Sports Reporter
#tsweeting@tribunemedia.net
#JONQUEL Jones and the New York Liberty routed the Women's National Basketball Association (WNBA) defending champions, the Las Vegas Aces, in a 38-point blowout win.
#The second overall New York team stepped on the hardwood at the Barclays Center in front of a historically packed crowd against the number one team in the league and wrapped them up 99-61.
#It was the team's second win of the weekend and fourth consecutive win in the last few games.
#Jones' squad got the upperhand over the Minnesota Lynx 76-66 this past Friday to return the favour after the team had previously snapped their four-game winning streak one week prior.
#After being down 0-1 in the season series against the Commissioner's Cup winners, the New York Liberty made a statement against the first-seeded Western Conference Aces.
#The latter had been riding an eight-game win streak and came into the match with 24-2 (win/loss record). However, Jones and her teammates halted the team's momentum.
#Sabrina Ionescu led the charge for the Liberty after dropping a jaw-dropping 23 points, five rebounds and three assists to pair with 5 three-pointers in the first half. Bahamian forward Jones also put on a show, for the biggest crowd ever for women's basketball at the Barclays Center, reeling in her second straight double double of the weekend. The former WNBA MVP poured in 12 points and was a force to be reckoned with on the boards, amassing 14 rebounds in the win. Her performance against the Lynx was even more impressive where she turned in 15 points and 17 rebounds and two blocks on 64 per cent shooting.
#Despite the flurry of offensive prowess coming from Jones, Ionescu, and forward Breanna Stewart, who came away with 23 points, the game highlighted the Liberty's lockdown defence. The Liberty led by five points (49-44) going into halftime.
#However, the momentum shifted greatly for New York as the team blew the game wide open, dropping 30 points on offence in the third period while holding the defending champions to nine points.
#Jones' team never looked back after running out to a 26-point lead in the third quarter and once again held the Aces to single digits, ending the final period 20-8.
#The season series is now tied 1-1 between the two powerhouse teams. The ongoing rivalry will continue at next week's WNBA Commissioner's Cup presented by Coinbase.
#It will be the third edition of the competition in the women's league with the Aces having home court advantage due to a 9-1 record in the in-season tournament. The game will commence on August 15 at the Michelob Ultra Arena in Las Vegas as the Aces look to defend last year's title and avenge their most recent loss.
#The 22-6 Liberty will next suit up against the Chicago Sky at 8pm on Friday.