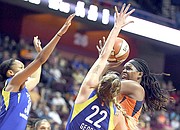 Jonquel Jones in action. (AP)
#By RENALDO DORSETT
#Tribune Sports Reporter
#rdorsett@tribunemedia.net
#THE country's pair of women's pro basketball players are both thriving with their respective clubs early in 2019.
#Jonquel Jones returned to the floor for UMMC Ekaterinburg in the Russian Premier League while Waltiea Rolle continues to settle in as a key contributor off the bench for the Xianjiang Magic Deer of the Women's Chinese Basketball Association.
#Jones finished with 25 points, five rebounds and shot 10-12 from the field in yesterday's 118-49 win over Dynamo M. The WNBA's Connecticut Sun star forward missed several games since she finished with 19 points in the season opener on a perfect day from the field. UMMC Ekaterinburg remains undefeated on the season.
#Jones joined the defending Euroleague Champions UMMC Ekaterinburg of the Russian Premier League and FIBA Europe's Euroleague during the WNBA offseason.
#Last offseason in China, Jones became one of the Women's Chinese Basketball Association's most dominant players and led her Shanxi Xing Rui Flames to a runners-up finish in the final.
#The star forward averaged a team-high 29.3 points, 18.8 rebounds and 2.9 assists over 31 games for Shanxi Xing Rui.
#In the 2016 offseason, Jones was selected No. 5 overall by Woori Bank in the Korean Basketball League and led the team to a championship title.
#On the season she averaged 15.8 points, 14.3 rebounds and 2.8 blocks – all team leads – in 24 minutes per game for Woori Bank in 38 games.
#At the league's award ceremony, Jones earned the Foreign Most Valuable Player Award, Defensive Player of the Year award and was named "Best Five" in the league.
#UMMC Ekanterinburg has won four Euroleague, 12 Russian titles and eight Russian Cups in team history. In addition to Jones, UMMC Ekanterinburg includes Brittney Griner and Kayla McBride.
#Rolle finished with 12 points and six rebounds in 11 minutes as her third ranked Xinjiang Magic Deer (25-6) defeated the 12th ranked Hebei (12-19).
#In the previous game, she finished with eight points and four rebounds in 12 minutes of a 92-69 win over Tianjin (2-28).
#Rolle announced her signing with the club and subsequent return to professional basketball via social media on December 24.
#Through five games, she is averaging 10.6 points, 4.6 rebounds, 1.2 blocks on restricted minutes each night.