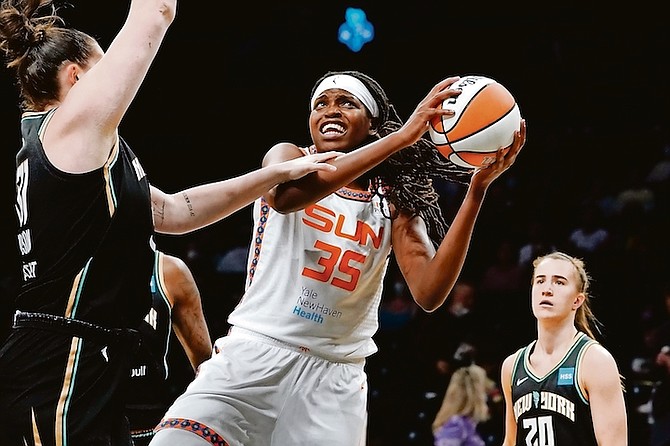 Connecticut Sun forward Jonquel Jones (35) shoots against New York Liberty centre Stefanie Dolson (31) in the first half during a WNBA basketball game, Tuesday, in New York. (AP Photo/John Minchillo)
#By RENALDO DORSETT
#Tribune Sports Reporter
#rdorsett@tribunemedia.net
#Jonquel Jones and the Connecticut Sun exacted revenge for an opening day loss and looked like a dominant title contender in an early season rematch with the New York Liberty.
#Jones finished with 11 points and six rebounds in just 21 minutes but Connecticut's defence was the story in the 92-65 win over the Liberty Tuesday night at the Barclays' Centre in Brooklyn, New York.
#Connecticut set franchise records for most turnovers in a half (20) and an entire game by an opponent (32) as they improved to 2-1 on the season.
#Those 32 turnovers resulted in 44 of Connecticut's 92 points.
#They finished one shy of the league record of 33 turnovers.
#In the season opener on May 7, the Liberty took a close 81-79 win. Jones finished with 15 points and seven rebounds, two blocks, two assists and two steals.
#"That was on me," Coach Curt Miller said of the difference between the two games, "We were going to be aggressive. At times, they were going to make some easy baskets because of our aggression but it worked.
#After the Liberty took an early 12-2 lead, the Sun scored 18 unanswered points to take control for good.
#"The points off of turnovers were obviously the biggest story of the game, especially when we still had moments tonight where our offence struggled," Miller said, "This is a group that prides itself on the defensive end."
#The Sun will return to the court Friday night when they host the Indiana Fever at the Mohegan Sun in the first game of a home and away back-to-back.