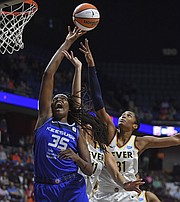 CONNECTICUT Sun forward Jonquel Jones (35) vies against Indiana Fever forward Alanna Smith (11) and centre Alaina Coates (81) for a rebound during a WNBA basketball game on Friday, May 20, 2022, in Uncasville, Conn. (Sean D Elliot/The Day via AP)
#By RENALDO DORSETT
#Tribune Sports Reporter
#rdorsett@tribunemedia.net
#JONQUEL Jones' individual numbers are short of her MVP pace from a year ago, but a more balanced Connecticut Sun has surged ahead of the WNBA's Eastern Conference standings.
#Jones finished with 13 points and nine rebounds in just 25 minutes of Sunday night's 92-70 win over the Indiana Fever at Gainbridge Fieldhouse in Indianapolis, Indiana. They improved to 4-1 on the season.
#Connecticut defeated Indiana for the second time in three nights following a 94-85 win on May 20 at the Mohegan Sun Arena in Uncasville, Connecticut.
#Connecticut got off to a quick start Sunday night with a 26-15 advantage after the first quarter and the lead ballooned to as much as 27. The Sun shot 52 percent from the field and 46 percent from beyond the arc while they limited the Fever to just 35 percent from the field and 18 percent from three-point range.
#After an opening night loss, the Sun have won four straight games and have scored over 90 points in their last two outings.
#With the series of lopsided wins, Jones has played in just over 25 minutes per game, down from 32 minutes per game last season. She is also averaging 15.2 points and 8-4 rebounds per game on 49 percent shooting from the field.
#In her 2021 MVP campaign, she averaged 19.4 points and 11.2 rebounds per game.
#The Sun currently lead the league in scoring at 86.8 points per game and have five players scoring more eight points per game.
#Jones is third on the team in scoring behind Alyssa Thomas (19 points per game), DeWanna Bonner (17 points per game) who was a late arrival after missing the first three games of the season and ahead of Brionna Jones at 12.8 points per game.
#Jones has played over 26 minutes in just one game this season, the aforementioned opening night loss on the road to the New York Liberty when she finished with 15 points and seven rebounds in 32 minutes.
#She followed with her first double double of the year – 16 points and 12 rebounds in just 26 minutes of a 77-60 win over the Los Angeles Sparks.
#She then went on to post 13 points and six rebounds in 21 minutes of a 92-65 win over the Liberty and 19 and eight rebounds in 24 minutes of last Friday's matchup against the Fever. With a roster that features six former All-Stars, Sun head coach and general manager Curt Miller said the team will continue to experiment with lineup variations.
#"There's a lot of tinkering to play with all season. And when you tinker there's going to be some good days and some ugly days," Miller said. "We have small lineups. We can go big lineups and then we can go (with) mammoth lineups. It's been fun to tinker with AT (Alyssa Thomas), Breezy (Brionna Jones), and JJ playing together. Now we've got to tinker with different lineups again."
#The Sun will host the Dallas Wings in the first game of a back-to-back tonight at 7pm local time. Game two is set for May 26 at 7pm.