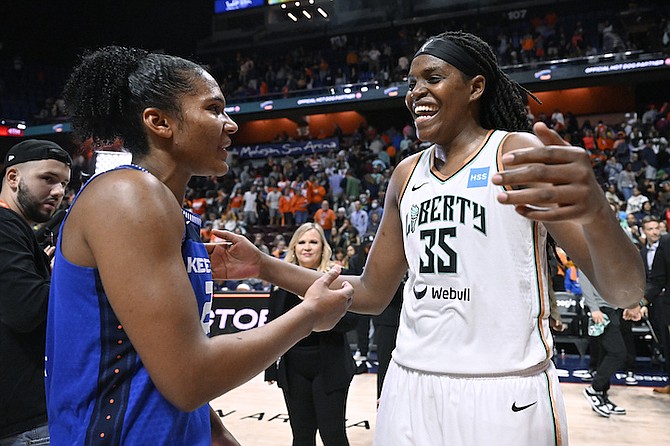 New York Liberty forward Jonquel Jones (35) meets with former teammate Connecticut Sun forward Alyssa Thomas (25) at the end of Game 4 of their WNBA basketball semifinal playoff series, on Sunday, October 1 in Uncasville, Connecticut.
As of Wednesday, October 4, 2023
#By BRENT STUBBS
#Senior Sports Reporter
#bstubbs@tribunemedia.net
#AFTER playing her first six seasons in Connecticut, leading the Sun to the Women's National Basketball Association Finals last year, Jonquel Jones is excited to be back for an encore this year albeit with her new team in the New York Liberty.
#Playing against her former team, the 6-foot, six-inch centre exploded for 25 points, including five in the final minute, to help the Liberty to an 87-84 win over the Sun on Sunday for a 3-1 decision in their best-of-five playoffs.
#Jones, the WNBA's 2021 most valuable player as a member of the Sun, also contributed 15 rebounds and four blocked shots for the Liberty, who will face defending champion Las Vegas in a series that starts on October 8. The two Finals teams were labelled as "super teams" coming into the season.
#In a post-game interview with ESPN's reporter Holly Rowe, the Grand Bahamian native said she was thrilled to have helped the Sun to reach the final for the first time since 2002.
#"Just playing together, staying together and weathering the storm," was how Jones described New York's ability to overcome the gruelling playoff series against Phoenix.
#"It definitely feels good to be on the other side. We obviously feel the great energy these fans have here, but it's a new chapter."
#The 29-year-old Jones left Connecticut as a four-time WNBA All-Star (2017, 2019, 2021 and 2022), All-WNBA First Team (2021), three-time All-WNBA Second Team (2017, 2019 and 2022), WNBA Most Improved Player and Peak Performer (2017), WNBA Sixth Woman of the Year (2018), three-time rebounding leader (2017, 2019 and 2021) and two-time All-Defensive Team (2019 and 2021) to winning the WNBA Commissioner's Cup and the MVP title this year in New York.
#But there was no greater achievement than playing against her former team in a game that saw Jones and her former team-mate and MVP runner-up Alyssa Thomas, tangle under the basket early in the fourth quarter.
#Thomas, who was bent over awkwardly on the floor, stayed down and was helped to the locker room. But she was back a few minutes later. but she noted that it wasn't anything untoward each other.
#"I told her it wasn't intentional," said Jones of Thomas, who went on to lead Connecticut with 17 points, 15 rebounds and 11 assists.
#"That's one of my closest friends in the league. That was just two people playing really hard, trying to get the win."
#As for her tenacity to get the job done for the Liberty, Jones said it's something she prides on doing every game she plays, and it showed in the fact that she and New York have secured their berth into final.
#"It means a lot, but I can't take all of the credit," said Jones in an unselfish mood ahead of their celebrations. "My team-mates are amazing. None of this happened with all of us being brought into what we envisioned before the season and coming together to make it possible."
#As she reflects on what they were able to accomplish, Jones said she just wants to be strong for her team-mates, just as she did in high school at Riverdale High before heading to Clemson to start her collegiate year, ending up at George Washington where she graduated in 2016.