#CHICAGO (AP) — Jonquel Jones had 17 points and 10 rebounds for Connecticut (22-11) but it wasn't enough as the Chicago Sky beat the Sun 94-91 yesterday to set the franchise record for wins in a season.
#Candace Parker scored 18 points, grabbed 12 rebounds and tipped a pass to Emma Meesseman for a 3-pointer in the closing seconds to help the Sky get the victory.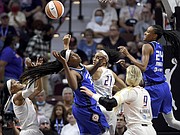 Connecticut Sun forward Jonquel Jones (35) looks for a rebound between Phoenix Mercury players during a WNBA basketball game Thursday, Aug. 4, 2022, in Uncasville, Conn. (Sarah Gordon/The Day via AP)
#Courtney Vandersloot had 20 points, five assists and four steals for Chicago (25-8). Meesseman and Allie Quigley added 15 points apiece and Kahleah Copper scored 11.
#Alyssa Thomas made a driving layup with 4:37 left in the third quarter to give the Sun — who trailed by as many as 17 points in the first half — their first lead at 58-56 and Odyssey Sims capped a 10-0 run with a driving layup that gave Connecticut a 75-69 lead early in the fourth.
#Vandersloot made two 3-pointers as the Sky scored 15 of the next 19 points before DeWanna Bonner converted a four-point play.
#Bonner then found Thomas for a layup to make it 89-all with 43.6 seconds to go but Parker, in the post, tipped a touch-pass out to Meesseman for a wide-open 3-pointer to make it 92-89 with 28.0 seconds remaining and the Sky led the rest of the way.
#Bonner, who scored eight points and had three assists in the final 2:41, missed a deep potential winning 3 at the buzzer. She finished with 18 points on 7-of-11 shooting and six assists.
#Alyssa Thomas added 16 points and eight boards. Sims scored 13 points, Courtney Williams had 12 and Brionna Jones added 10.
#Connecticut was missing head coach Curt Miller who was spending time with his family after his mom Bev died earlier this week.
http://www.tribune242.com/news/2022/aug/08/jonquel-jones-has-17pts-and-10-rebounds-sky-get-94/?news