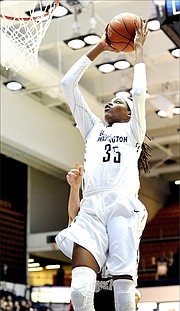 Jonquel Jones
#GEORGE Washington women's basketball senior forward Jonquel Jones, of Grand Bahama, has been named Atlantic 10 Player of the Week for the week ending November 22, the league announced yesterday.
#Jones was dominant at No. 15/10 Stanford on Saturday, posting a monstrous double-double of 27 points and 17 rebounds.
#A preseason Wooden Award candidate, Jones connected on 11-of-18 from the floor in the game, including a career-high 5-of-6 from 3-point range, and added three blocks and an assist. She scored 15 points with three treys in the opening quarter and had a double-double of 20 points and 11 boards by halftime.
#Earlier in the week, Jones tallied 14 points and seven rebounds in GW's 78-48 rout of American at the Charles E Smith Center.
#The Freeport, Bahamas native averaged team bests of 20.5 points and 12.0 rebounds in two games last week, shooting 51.7 per cent (15-of-29) from the floor and 58.3 per cent (7-of-12) from long distance.
#Jones ranks 14th all-time at GW with 659 rebounds as a Colonial, while her 107 blocks as a member of the Buff and Blue rank seventh on GW's all-time list. Through three games this season, she is averaging 15.7 points and 11.3 rebounds, ranking ninth and second in the A-10, respectively. She is also fourth in the league in 3-pointers per game (2.7), fifth in blocked shots (1.7) and sixth in 3-point percentage (.533).
#The Player of the Week award is the first of the season for Jones and the ninth of her career, matching GW Athletic Hall of Famer Cathy Joens' programme record set from 1999-2004.
#Jones was honoured seven times last season en route to garnering A-10 Player and Defensive Player of the Year and was also recognised once as a sophomore in 2012-13.
#In addition, with junior Caira Washington's recognition last week, it marks the first time a pair of Colonials have been named Player of the Week in the same season since Megabn Nipe and Danni Jackson in the 2013-14 campaign. It is also the first time GW players have been honoured for the first two weeks of the season since Debbie Hemery received the first two awards in 1994-95.