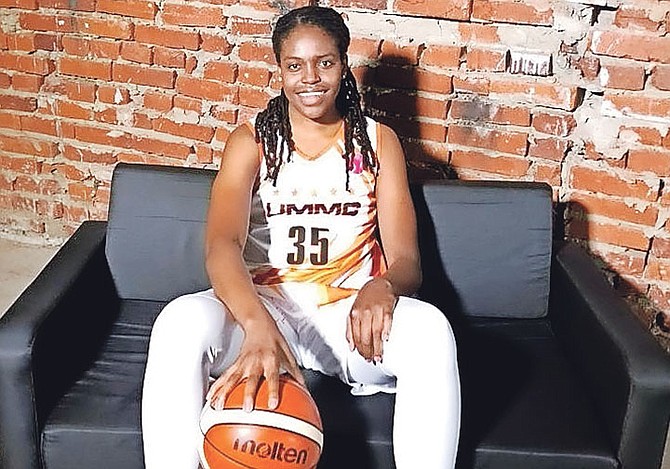 Connecticut Sun star Jonquel Jones.
#By RENALDO DORSETT
#Tribune Sports Reporter
#rdorsett@tribunemedia.net
#Connecticut Sun star Jonquel Jones has officially announced her intention to forego the upcoming shortened WNBA season amid COVID-19 pandemic concerns.
#Jones, who comes off a 2019 season where she was named to the All-WNBA Second Team, the All-Defensive Team and an All-Star for the second time, cited personal reasons and uncertainty around the pandemic.
#"After careful thought and consideration, I've decided to forego the upcoming WNBA season and use this time to focus on personal, social, and familial growth. This was one of the toughest decisions I've made but the resurgence and unknown aspects of COVID-19 have raised serious health concerns that I do not feel comfortable competing in," the veteran forward said in her statement via Instagram. "I'd like to thank the Connecticut Sun organisation, my teammates and fans for their unwavering support and understanding. While I won't be competing this year I'm looking forward to lacing up with my teammates in 2021 and continuing the pursuit for a WNBA Championship. Wishing the entire league and everyone involved a healthy and enjoyable season. Go Sun."
#The Sun front office voiced their full support of Jones' decision.
#"On behalf of our entire organisation, we fully support JJ's difficult decision to sit out the 2020 WNBA season during these unprecedented times," said Sun general manager and head coach Curt Miller.
#"We recognise the amount of unique challenges, sacrifices, and unknowns this season presents, and from the top down, there is an unwavering commitment to support each player's respective decision. We look forward to having JJ back leading us next summer."
#Last week, the WNBA announced it will host a 22-game regular season, at the IMG Academy in Bradenton, Florida. The season is set to begin sometime in July, but no confirmed dates have been announced.
#To press time, Bradenton, located in Manatee County, has recorded 1,977 confirmed cases of COVID-19, up 39.1 per cent since last week. It has also recorded 126 deaths, up 9.5 per cent since last week.
#Jones became the second WNBA player to opt out of the upcoming season after Atlanta Dream guard Renee Montgomery announced last week that she was sitting out the season but to focus on social justice initiatives.
#Players must inform their teams by Thursday whether they are playing this season.
#"The top priority continues to be the health and safety of players and staff, and the league is working with medical specialists, public health experts, and government officials on a comprehensive set of guidelines to ensure that appropriate medical protocols and protections are in place," the league announced in an official press release.
#"Due to the fluid situation resulting from the pandemic, the league and players will continue to review the appropriate health and safety protocols and make necessary changes to the plan prior to arriving on-site for the start of training camp and throughout the season."
#The league will be played with no fans in attendance but will work closely with broadcast partners ESPN, CBS Sports Network and NBA TV.
#The WNBA regularly hosts a 36-game regular season from May to September, with the playoffs concluding in October.
#This season, the league intended to introduce a midseason tournament, the Commissioner's Cup, however, the amended season halted those plans.
#Jones signed a multi-year contract with the Sun in February as the league's free agency period commenced.
#The Sun fell one game short in their historic run toward a WNBA Championship last season, but Jones established herself as one of the premier players in the league with her standout season.
#In addition to her aforementioned accolades, she finished third in Defensive Player of the Year voting and was named Eastern Conference Player of the Week four times.
#Jones finished the regular season with starts in all 34 appearances, averaged 14.6 points, and posted career highs in steals (1.5 per game) and minutes played (28.8 per game).
#She also won her second rebounding title in four seasons.
#Jones led the league in rebounds with 9.7 boards and blocked shots at a career-high 2.0 per game.
#She also finished fourth in defensive rebounds with 6.4 per game. She grabbed 10 or more rebounds 16 times, including a season-high 22 rebounds on May 31.
#In the offseason, Jones was a member of UMMC Ekaterinburg in the Russian Women's Basketball Premier League.