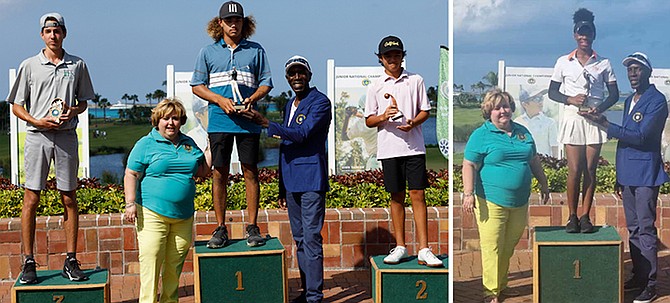 LEFT: Junior boys' champion Alex Dupuch receives his award from Gina Rolle and Anthony Hinsey. At left is third place finisher Adrian Stan-Busuioc and second place winner Aidan Gorospe. RIGHT: Tyesha Tynes receives her girls under-18 title from BGF's first vice president Anthony Hinsey. At left is Gina Rolle, director of the junior division. Photo: Austin Fernander/Tribune Staff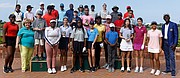 BGF executives Gina Rolle and Anthony Hinsey pose above with the participants of the Junior Golf National Championships.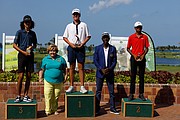 JACKSON MACTAGGART, the under-15 boys' champion, stands with third place finisher Camdyn Frobes and runner up Kerrington Rolle with Gina Rolle and Anthony Hinsey. Photos: Austin Fernander/Tribune Staff
#By BRENT STUBBS
#Senior Sports Reporter
#bstubbs@tribunemedia.net
#After picking up a second-place finish, Alex Dupuch said he just wanted to make sure he finally won his first Bahamas Golf Federation junior national golf championship title before he made his exit.
#Dupuch, winner of the boys' under-18 flight, was joined by a host of other champions, including Tyesha Tynes, who had to go to a playoff before she repeated as the girls' under-18 national junior champion on Sunday at the Ocean Club Golf Course on Paradise Island.
#At the end of the two-day event, Dupuch had to dig down deep before he emerged with a one-stroke victory with his scores of 80-78 for a 158 total over Aidan Gorospe, who trailed with 83-76 for 159. Adrian Stan-Busuioc was third with 87-77-164.
#"I didn't really strike the ball very well. I knew coming into the tournament, I wasn't striking that well, so I had to rely on my putting," Dupuch said. "I didn't score the way I wanted, but mentally this was the best I felt, just staying in the battle.
#"I never gave up, so I'm really proud of myself because Aidan never gave up. There was one point that I was down, and I had to battle back, and I ended up winning by one stroke in the very last hole. He really made it really tough on me."
#The 18-year-old senior at Windsor High School said it's good to go out of the junior ranks in style, hoisting his first national title in the process.
#Tynes, with had identical scores of 97, and Milijojka Gojkovic, with her rounds of 90 and 104, finished tied at 194 at the end of the two days. After going through a playoff on the 12th hole, Tynes emerged the winner by two strokes over Gojkovic.
#Mia Underwood was third with 104-99-203.
#"I knew that going into the final day I was behind by seven strokes, so I had to really focus and fix the mistakes that I made the day before," she said. "There were a few holes that I didn't play that well on, but even though I shot the same score, I was really pleased with it.
#"But when they told me that we were tied, I knew I had to go out there and so I knew I had to go out there and break the tie. The hole had some water on it and so when I went out there, I had to take a drop because my ball went into the water."
#The 17-year-old St John's 12th grader said she was delighted to repeat as champion because she had to focus on herself, but the competition and the conditions forced her to be a little more concerned about her opponents.
#Versatile Jackson Mactaggart, just back from a recent trip to represent the Bahamas in tennis, said he didn't have sufficient time to readjust to golf, but was delighted to still win the boys under-15 flight. He did it with rounds of 80-79 for 159 over Kerrington Rolle, who shot 79-86 for 165. Camdyn Forbes was third with 88-87-175.
#"It was a tricky transition because the two sports don't compare at all," said Mactaggart, a 15-year-old student who is enrolled in an online school.
#"So it was a lot of hard work. I had to practice a lot this week working on my putting, so it's good to get back into the groove for golf.
#"It feels good to win it because my opponents all played well."
#Aryanna Smith had an impressive showing in the girls' under-10 flight, shooting rounds of 53-57 for her total of 110, well ahead of second place finisher Londyn Strachan with 73-71-144. Taylor Davis was third with 81-76-157.
#"I felt good because this was only my second time playing this golf course," said the 11-year-old Smith, who is in grade six at Eva Hilton Primary School. "I didn't have any challenges because I saw a lot of improvement since playing on it the first time."
#William Mahelis was the winner of the boys' under-13 flight. He shot 47-50 for a total of 97. Nicholas Turnquest was the runner-up with 55-59 for 114, the same final score as Dylan Mellor, who had identical rounds of 57.
#"I think I played very good, but I got a few bad shots on nine, so I think I could have played better on nine," said Mahelis, an 11-year-old fifth grader at St Andrew's School. "The competition was good, but I was glad I won it after I got third last year."
#The winners in the other flights were as follows:
#Boys 13-and-under – Denahj Mortimer with 99-93-192; Rashawn Hanna with 89-104-193 and William West 98-100-198.
#Girls 13-and-under – Lilly Bisterzo with 87-78-165; Haley Hall with 87-81- 168; Maddisson Carroll 82-87-169.
#Girls 15-and-under – Seannae Nrville Smith with 103-105-208; Taylor Santos with 106-116-222; Jolene Stan-Busuioc 124-106-230.
#Boys under-8 – Maximilien Demole 38-39-77; Antonio Hernandez 57-51-108; Reef Harvey 64-55-110.
#Girls 8-and-under – Sarah Scheidecker 51-52-103; Zara Greaves 52-52-104; Zonalle Smith 64-55-119.
#Boys under-10 – Hugo Johnston 50-44-94; Kai Bastian 56-50-106; William Smith 61-46-107.
#Boys/Girls 18-and-under – Darrius Thompson 81-77-158.
#Girls under-13 – Aiyanna Hernandez 54-54-108; Olivia Ott 60-59-119; Celina Mellor 61-65-125.
http://www.tribune242.com/news/2023/mar/14/junior-golfers-are-crowned-champions/?news