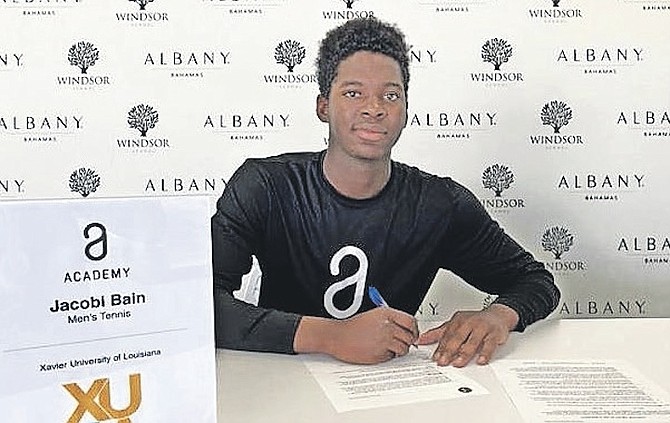 JACOBI BAIN, of the Bahamas, has signed his official letters to attend Xavier University of Louisiana.
#By BRENT STUBBS
#Senior Sports Reporter
#bstubbs@tribunemedia.net
#JACOBI Bain, one of the Bahamas' top junior tennis players, has signed his official letters to attend Xavier University of Louisiana.
#Bain, 17, is in his senior year at Albany Tennis Academy and Windsor School. But he said he can't wait to enrol in the private historically black Roman Catholic university in New Orleans in August. "I selected that school because I felt the tennis team was a great choice for me and it's in a great city in New Orleans, so I just felt everything was just right for me."
#As a result of the COVID-19 restrictions, Bain was unable to make a trip to visit the school, but he indicated that the men's tennis head coach Alan Green has provided him with photos of the campus.
#Bain, an ambidextrous person, who plays primarily with his left hand and writes with his right, said he hopes to make his presence felt with XUL as they continue to build on their repetition as being one of the top ranked schools in the NSSIA Gulf Regional.
#"I just want to be able to go there and earn one of the top spots on the team," Bain said. "I'm going to try and do my best and play my best tennis."
#In speaking with coach Green, Bain said he just simply has to show up at school next year and perform as he's done as one of the top junior players in the region.
#"I feel like going to college, rather than going pro (professional) is a better option for me," Bain said. "It's just another stepping stone to becoming a pro. "So hopefully I can go to college and make a name for myself and then venture into the pro ranks with that experience under my belt. So I felt like playing college will only help me to enhance my game."
#His father, Bradley Bain, said the plan was always for his son to play college tennis and get his education through sports.
#"He has been steadfast in the development of his game and now it's time to move his game to the next phase in his development," said Bain, who previously coached his son, while his mother worked on his fitness level.
#"He will be playing NAIA Division One with a lot of talented players. He will have an opportunity to compete against NCAA Division One players, which will help in his development."
#The elder Bain said if the younger Bain plays up to his full potential, he could earn All- American status at the end of his freshman year.
#In preparation for college, the elder Bain said his son will participate in a few lower level professional tennis tournaments this summer.
#In the meantime, the younger Bain said he's looking forward to graduating from high school in June.
#"Things have been going good. I've been hitting with one of the top tennis players in the world, Milos Raonic and Michael Major, another top junior tennis player, who is now here at the Albany Tennis Academy."
#On hitting against Raonic, a 29-year-old Canadian who stands at 6-feet, 5-inches and is ranked at No.14 in the world, Bain said he's been in awe.
#"I got with him over the summer and now he's back here, so I'm just delighted to see how tall he is and how well he moves round the court," Bain stated.
#With no national or international tennis to participate in, Bain said he's just delighted to have the opportunity to play some tennis at Albany and he's looking for the day when the tournaments come back on course before he heads off to school.
#"I feel it's a perfect opportunity for me to get ready for the next level at college because I'm playing with high level tennis pros and they should be able to help me," he said.
#"I really would have liked to play in some tournaments here, but I've been able to stay fit by running and working out as much as I can on the tennis court," he added.
#With some time to get ready for college, Bain said he is still contemplating what major he will pursue, but it will probably be communications.
#"Everything else is going good. I'm just waiting to get to college next year and prove what I can do," he summed up.