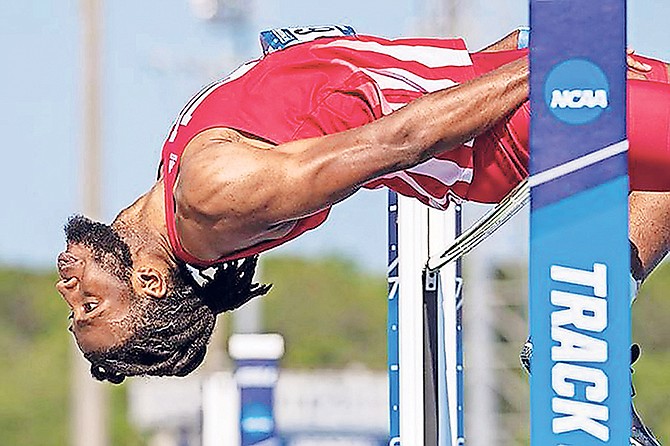 Jyles Etienne
#By BRENT STUBBS
#Senior Sports Reporter
#bstubbs@tribunemedia.net
#THE men's high jump, featuring two Bahamians, was the highlight at the Big Ten Conference Championships in Geneva, Ohio, as Jyles Etienne – a junior Indiana University – matched his lifetime best to help Indiana University take the men's title back to Bloomfield for the second time in four years.
#Etienne, now in his junior year, captured his first career high jump victory in a conference championship as he soared 2.23 metres or 7-feet, 3 3/4-inches. Shaun Miller Jr, a freshman at Ohio State, came in seventh with 2.08m (6-9 3/4).
#Etienne and the Hoosiers, who earned 120.5 points, last won the title in 2017.
#Samson Colebooke, a senior at Purdue University, was fourth in the second 200m final in 20.80. The winning time in his race was 21.11 by Donnie James, a sophomore at Ohio State. The race took place after Colebrooke was sixth in the final of the 60m in 6.75. Waseem Wallace, a junior at Purdue, took the title in 6.58.
#In the 200m, Colebrooke had the fastest qualifying time of 20.80. Tavonte, a junior at Ohio State, failed to advance with a third place in his heat for 14th place overall in 21.53.
#Colebrooke also teamed up with Jabari Bryant, Waseem Williams and Brian Faust to take their heat of the men's 4 x 400m relay final in 3:10.92, which turned out to be the fastest of the two heats combined.
#Mott also contested the men's 60m hurdles, but he could only produce a sixth place in his heat in 8.14 for 16th place overall, while in the preliminaries of the 60m, Adrian Curry, a freshmen at Ohio State, was sixth in his heat for 15th overall in 6.88.
#Tamar Greene, a junior at Purdue, had double duties in the men's long and triple jumps.
#His best showing came in the triple jump where he soared 15.95m for fifth place. James Carter, a sophomore at Iowa, won the event with 15.25m. Greene cleared 6.97 metres or 22-feet, 101/2-inches for second place in his flight of the long jump, but 10th overall. Jonathan Wells, a senior at Illinois, was the winner with 7.65 (20-1 1/4).
#Colebrooke and Greene helped Purdue, coached by Bahamian Norbert Elliott, to sixth place with 54 points as they trailed the Bahamian connection of Miller Jr, Mott and Curry at Ohio State, who were fifth with 57 points.
#On the women's side, Divine Parker, now in her sophomore year at Ohio State, finished fourth in her 200m final in 23.83. Megan Grabowski, a senior at Indiana, won the race in 24.05.
#Earlier in the meet, Parker had to settle for a second-place finish in the 60m in 7.36, trailing her Ohio State junior team-mate Anavia Battle, the champion in 7.29.
#Parker won her heat in the 200m for the fourth fastest qualifying time of 23.83 and she also won her heat in 7.44 for the fourth fastest qualifying time.Ohio State went on to win the women's title with 104 points.
#Astwood displays her strength
#At the Mountain West Indoor Championships, Acacia Astwood, competing for UNLV, was second in the women's discus with a toss of 19.02m (62-5) on her sixth and final attempt. Astwood's series of throws were 17.62m (57-9) and 18.12m (59-5) and three fouls before she landed her best mark.
#The winning toss was 19.70m (64-7) by Tarynn Sieg of Colorado State on her third attempt and Astwood's team-mate Cassidy Osbourne was third with 19.01m (62-4) on her third attempt.
#Nairn doubles up at SEC
#University of Arkansas' senior Laquan Nairn capped off a weekend of action for Bahamians at the Southeastern Conference Indoor Track and Field Championships by producing a personal best performance for second place in the men's long jump and a fourth place in the triple jump.
#At the Gillian Track Stadium in College Station, Texas, Nairn soared 8.02 metres or 26-feet, 3 3/4-inches for a lifetime best that was bettered only by Carey McLeod of Tennessee with 8.19m (26-10 1/2.
#In the triple jump, Nairn had to settle for fourth place with 15.92m (52-2 3/4). Clayton Brown, a senior at Florida, won the title with a leap of 16.50m (54-1 3/4). McLeod was the runner-up with 16.49m (54-1 1/4).
#Also competing at the meet were Doneisha Anderson and Megan Moss, who were both entered in the women's 400m.
#Anderson, a sophomore at the University of Florida, made it to the final where she was fifth in 52.28. The winning time was 52.08 by Alexis Holmes, a sophomore at Kentucky. Anderson had the second fastest qualifying time of 52.53, but Moss, a freshman at the University of Kentucky, was unable to get out of the preliminaries after she was 10th overall in 53.23.
#In the women's 4 x 400m relay, Moss led off Kentucky's team of Abby Steiner, Chloe Abbott and Alexis Holmes as they got second in their heat in 3:30.42 for second overall, while Anderson popped off for Florida as the team of Taylor Manson, Nikki Stephens and Semira Killebrew clocked 3:32.87 for second in their heat for fifth place overall.