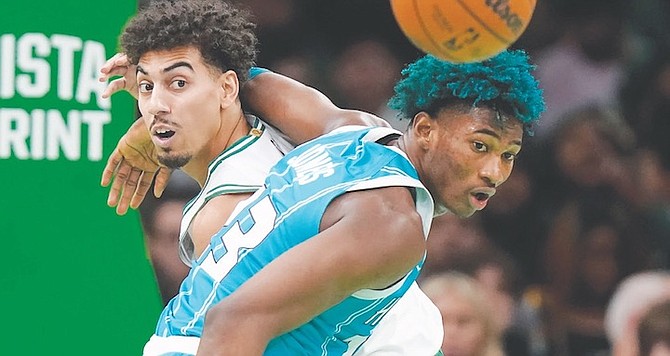 CELTICS' BRODRIC THOMAS, left, and Hornets' Kai Jones, right, pursue the ball in their preseason game yesterday in Boston. (AP Photo/Steven Senne)
#By RENALDO DORSETT
#Tribune Sports Reporter
#rdorsett@tribunemedia.net
#KAI Jones and the Charlotte Hornets officially began their 2022-23 campaign as the NBA preseason got underway yesterday.
#Jones played sparingly late in the fourth quarter but finished with five points, five rebounds and a blocked shot in just nine minutes of the Hornets' 134-93 loss to the Boston Celtics yesterday at TD Garden in Boston, Massachusetts.
#Jones powered home a pair of dunks over Celtics centre Luka Samanic that went viral postgame.
#The Hornets are now under coach Steve Clifford, in his second run with Charlotte after James Borrego was fired following the season.
#Charlotte connected on 35 percent of its overall shots and made only five of 33 shots from 3-point range. Boston led 68-46 at halftime and stretched the lead to as many as 46 in the second half.
#Clifford called Jones "an exceptional athlete" and "phenomenal worker" when asked about his role in the frontcourt at training camp. "Kai [Jones] to me, right now, is more of a centre. He can play some four. Even for our league he's an exceptional athlete and physical.
#"How quickly he puts himself in a place where he can legitimately play night in and night out in NBA games is just purpose of play," Clifford said.
#"For all young players, especially inside guys, that's the hardest thing. Playing to your strengths, helping your teammates play to their strengths, so we'll see."
#The Hornets return veteran centre Mason Plumlee, third year player Nick Richards and rookie Mark Williams all at the five spot.
#Plumlee got the start and played 15 minutes while Richards played 18 and Williams received 11 minutes in the rotation ahead of Jones.
#Forwards Jalen McDaniels and JT Thor were also ahead of Jones in the rotation at 19 and 15 minutes respectively.
#Jones called his rookie season "a beautiful experience" at Hornets media day but looks forward to making a bigger impact.
#"With my athleticism, I can have a two-way impact," he said. "Lob threat, blocking shots, just being versatile."
#In 2021, he excelled at the G-League level on assignment with the Greensboro Swarm averaging 16.5 points on 61.4 percent shooting from the field – 32 percent from three-point range – 9.6 rebounds, 1.1 assists, 1.1 steals and 2.1 blocks in 32 total G League games. He also posted 15 total double-doubles.
http://www.tribune242.com/news/2022/oct/03/kai-jones-preseason-debut-5-points-5-rebounds-and-/?news