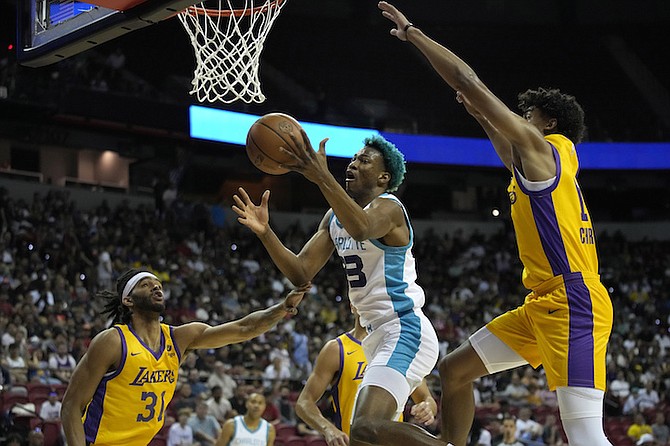 Kai Jones in action for the Charlotte Hornets. (AP Photo/John Locher, File)
As of Wednesday, October 11, 2023
#By TENAJH SWEETING
#Tribune Sports Reporter
#tsweeting@tribunemedia.net
#National Basketball Association (NBA) professional player Kai Jones requested a trade from the Charlotte Hornets via the X social media platform on Monday night.
#The decision came following the Hornets' announcement two weeks ago that the forward/center would not be joining them at this year's training camp and will be away from the team due to personal reasons.
#However, Jones' latest social media post might cost him up to $150,000 in fines or a possible suspension as it violates Section 18 of the National Basketball Players Association's (NBPA) Collective Bargaining Agreement (CBA).
#The former 2021 first round pick made his displeasure with the Hornets known on Monday night.
#"I have officially requested to be traded from the Charlotte Hornets. #GOATLIFE" he posted.
#The 6-foot-11 player has recently made some questionable posts on social media, including openly criticising his teammates and exhibiting erratic behaviour on Instagram Live in the NBA's offseason.
#However, his latest post on X might be his costliest of them all.
#Section 18 of the NBPA CBA states that any player or, for clarity, any player representative or person acting with authority on behalf of a player who publicly expresses a desire to be traded to another team shall be subject to a fine and/or a suspension.
#As previously mentioned, the fine levied if in violation of this rule is $150,000.
#In response to Jones' offseason antics on social media and absence from training camp, the Hornets released a statement which said there is not a set timetable for the Bahamian big man's return.
#"Kai Jones will not participate in training camp due to personal reasons. There is currently not a timetable for his return to the team.
#"Out of respect for the personal nature of the situation, the Hornets will not have any additional public comment regarding the matter at this time," the statement read.
#The team ultimately declined not to comment on this most recent matter.
#In 67 career games, the 19th overall pick of the 2021 draft averaged 2.7 points per game along with two boards for the Hornets.