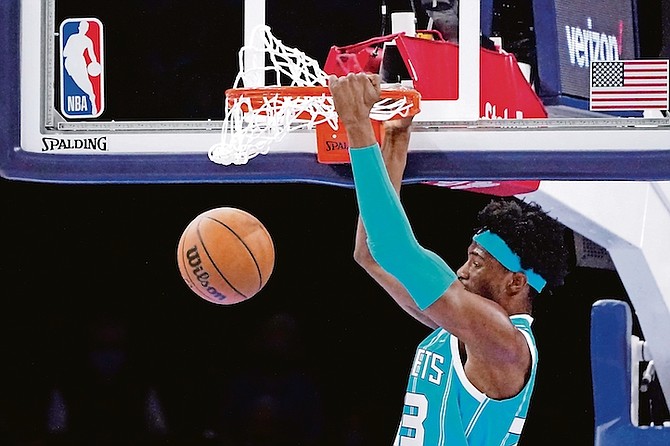 Kai Jones (AP Photo)
#By RENALDO DORSETT
#Tribune Sports Reporter
#rdorsett@tribunemedia.net
#KAI Jones returned home for the first time since he completed his rookie season in the NBA and already has his sights set on the offseason and improvement headed into year two.
#"It was a season of growth, I learned so much about myself and about the game of basketball. So much about my soul," Jones said. "I grew so much as a person and a player and I made some great relationships."
#At the NBA level with the Hornets, Jones appeared in 21 NBA games this past season but played sparingly in few moments off the bench. He excelled at the G-League level on assignment with the Greensboro Swarm, averaging 16.5 points on 61.4 percent shooting from the field – 32 percent from three-point range – 9.6 rebounds, 1.1 assists, 1.1 steals and 2.1 blocks in 32 total G League games. He also posted 15 total double-doubles.
#"I bought in out of the gate. I love basketball, so once I was told about the opportunity to play 30 minutes (in Greensboro) because I wasn't playing up here (in the NBA), I was jumping. I was so excited and ready to go. It gives me extreme confidence. Coming in, I believed I could have an impact on this team on both ends.
#"Now, it's just that I think I can have a greater impact. I know there's no ceiling for me. Just continue to work," Jones said in his postseason exit interview.
#"Coming into the season, I didn't think I was going to be down there, but God had a plan and I'm glad that I did go. I learned so much about myself and grew so much.
#"It's a blessing. The biggest thing for me was walking in gratitude. I think that's huge. Learning how to be so grateful for playing the game every day and with the opportunity you have in front of you, making the most out of it."
#The no.19 pick in last year's draft, Jones and the other members of the Hornets' rookie class have played sparingly as the Hornets have chased a spot in the NBA playoffs.
#Jones highlighted the season with a career high 30 points and grabbed nine rebounds in a 139-119 win over the Long Island Nets on March 27 at the Greensboro Coliseum in North Carolina.
#"I got so much better just with my efficiency there, especially from 3-point range because I was taking the right shots and finding the balance. "Defensively, playing in the post, my positioning, being able to absorb contact and understanding it's a battle, really. I just got so much stronger throughout the season, so I became more comfortable with boxing guys out, hitting guys and imposing my will on people. I got a lot stronger really, mentally and physically," he said.
#"I think I've improved in every aspect of the game. From my overall feel for the game, my knowledge, my patience, my pace, my physicality and on the defensive end, learning how to play in coverages and in the post. I've just improved so much, just continuing to take steps in the right direction and build championship habits."
http://www.tribune242.com/news/2022/jun/21/kai-jones-returns-home/?news