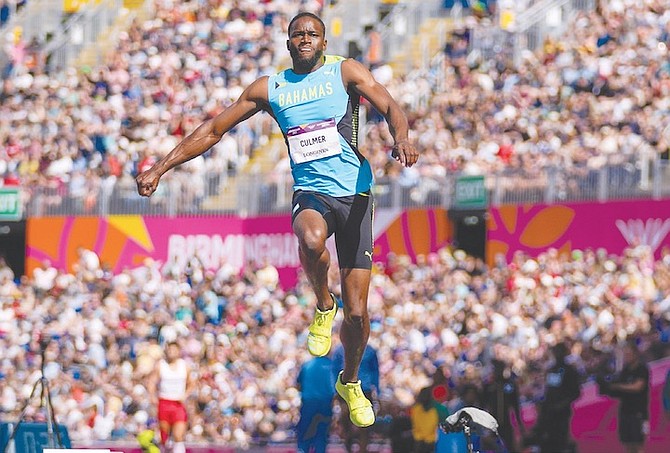 KAIWAN Culmer of the Bahamas competes in the men's triple jump final during the athletics in the Alexander Stadium at the Commonwealth Games in Birmingham, England, yesterday. (AP Photo/ Alastair Grant)
#By BRENT STUBBS
#Senior Sports Reporter
#bstubbs@tribunemedia.net
#BIRMINGHAM, England — Seventh best was all that Kaiwan Culmer could muster as the Bahamas wrapped up competition at the 2022 Commonwealth Games yesterday at the Alexander Stadium.
#Culmer was the last of the Bahamian delegation to compete.
#In his first global international meet, Culmer said he felt he did his best.
#He cleared 52-feet, 7 ½-inches or 16.04 metres on his first attempt to open his account that included (15.12m) on his fourth and scratches tallied on his second, fourth, fifth and six tries.
#"It was a good environment, I was prepared. I could have continued on with the momentum in the competition, but I had some issues with my approaches and being consistent," he said.
#"But overall, it was good. I can't complain.
#"I just need to get some more competitors to compete against at home and get an opportunity to participate in some more meets overseas so I just have to be prepared when you get to environments like this."
#Alexander Stadium provided more than he anticipated as he watched Eldhose Paul, who led a India sweep of the top two medals with gold 55-10 ½ (17.03m) and Abdulla Aboobacker Narangolintevida with the silver 55-10 ¼ (17.02m). The bronze went to Jah-Nhai Perinchief from Bermuda with 55-6 ¼ (16.92m).
#"God is good. I thank him for allowing me to be able to experience something like this. Not too many people get to this level," he said. "I didn't even think I was on the team and I didn't have any faith in God that I would make it. "Then I got the call and it just shows that whatever you do, he's going to be behind you and he's going to push you. Nobody can really change what he has for you. I really thank him for giving me this opportunity. I'm healthy and not injured."
#Culmer said he will be going to Grand Bahama for the North American, Central American and Caribbean (NACAC) Championships where he intends to correct some things he did wrong at the games and hopefully he can get the medal that slipped away from him here.
#"There's nothing I can do now, but to keep up faith in God and get ready for Freeport," he said.
#At the start of the competition, Culmer took the early lead from his first jump, but he scratched the second attempt as he dropped to seventh. He came back with 15.12m on his third attempt, but there was no improvement in the standings.
#While he missed out of getting on the podium, Culmer said he was delighted to witness the achievements of LaQuan Nairn with his gold medal in the men's long jump and Devynne Charlton in the women's 100m hurdles.
#"That was beautiful," Culmer said. "I feel real happy for Devynne and LaQuan. Over the past few years, it's been two athletes excelling, but now we have some athletes in the pipeline who are here and are doing their best and making us all proud.
#"I'm proud of them. All I could do is look up to them. I got on the bus with Devynne this morning and she said she was ready. I was ready too, but things didn't work out the way it did for her and LaQuan. But I'm happy for them both. Hopefully I will get my chance in Freeport."
#Peter Pratt, who coached Culmer and long jump gold medallist LaQuan Nairn, said he was elated to be a part of the team here in Birmingham.
#"These two athletes, as well as the other members of the team, performed very well," Pratt said.
#"I believe we just need to increase our training regimen and get some more funding for them to be able to compete in more meets overseas.
#"But I was very proud of what LaQuan was able to achieve. He came here having had some meets that he competed in overseas, so he was alright. But I think if Kaiwan can do the same thing, I think he will have a much better performance when he comes back to these types of meets."
http://www.tribune242.com/news/2022/aug/08/kaiwan-culmer-7th-triple-jump-final/?news