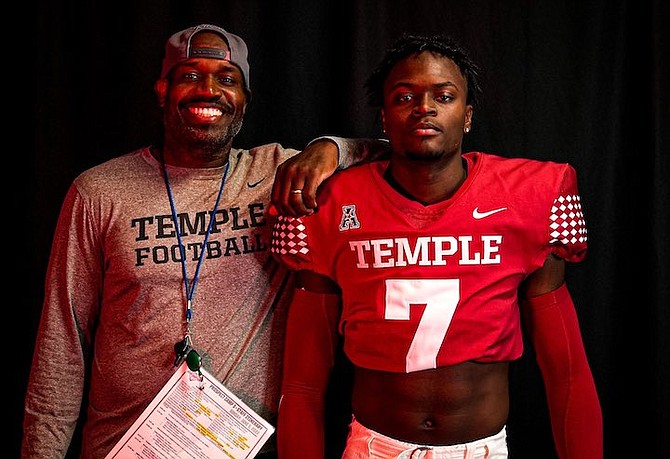 KALEB BARNETT, right, and Jules Montair, defensive backs coach at Temple.
#By RENALDO DORSETT
#Tribune Sports Reporter
#rdorsett@tribunemedia.net
#THE latest Bahamian prospect to enter the South Florida pipeline to gridiron success committed to a major Division I programme.
#Defensive back Kaleb Barnett announced his commitment to the Temple Owls football programme for the fall 2023 season.
#The Jackson Miami High product is reportedly the fifth high school prospect to commit to the Owls in the current recruiting cycle. Barnett was one of several Bahamian prospects to compete for Miami International Academy.
#Standing at 6'1" 185 pounds, Barnett is also a 100m sprinter who has turned in a time of 10.7 seconds.
#"My high school coach said I have a great wingspan for a corner. I'll be able to stop and get a lot of picks," Barnett told OwlsDaily. "Coaches want me to play every position because of my athletic ability."
#The Temple staff looks forward to Barnett's athletic ability in the defensive backfield.
#"Coach Jules and coach Drayton said they like my speed," Barnett said. "If I get beat on a route, I'm able to catch up very quickly. And my height for a high school cornerback is good, especially how I'm still growing. I'll be able to play multiple positions on the field."
#Both Florida International and Florida Atlantic were in the recruiting process for Barnett who also got an offer from Charlotte before he ultimately chose Temple. Barnett went on a pair of visits to the campus, including to the "Cherry and White" Game last April.
#"When you see him in person, you wouldn't be able to tell he just started playing football, with how fast he's grown since he's been down here," Barnett's coach Olin Cushion told Owls Daily. "You could barely tell that he just started playing last year. It's crazy."
#Several other Bahamians in the Miami International Academy programme have received offers from programmes at both the NAIA and NCAA levels.
#Dwayne Lewis, a 6'3" 215 outside linebacker and defensive end, has fielded offers from Kentucky Christian Knights in the NAIA and Wagner Seahawks in the Northeastern Conference of NCAA Division I.
#Outgoing seniors Mazio Randall and Amarie Archer have committed to the Dodge City Community College Conquistadors football programme for the upcoming fall semester.
#Miami International Academy finished their inaugural season 2-7 but it was highlighted by a 40-0 South Florida High School Orange Bowl win over Palm Beach Christian Prep.
http://www.tribune242.com/news/2022/jul/07/kaleb-barnett-commits-owls/?news