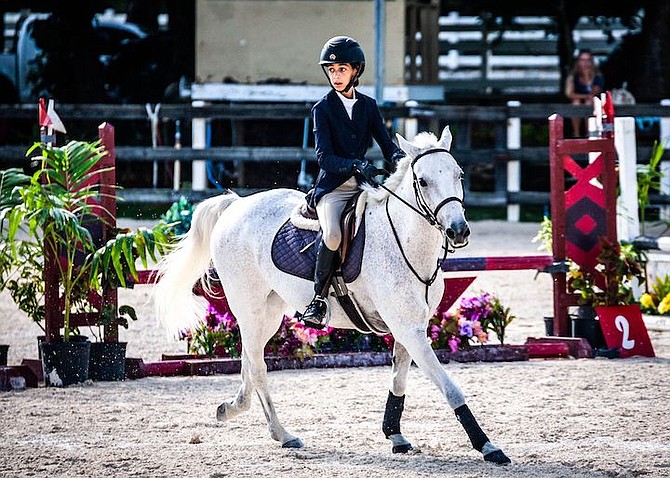 KATERINA Coello aboard TGIF.
#THE Caribbean Equestrian Association (CEA) announced the results of its 2022 Mini Jumping Challenge, with Bahamian rider Katerina Coello winning the top overall individual score.
#Over 40 riders across the Caribbean competed in the 2022 CEA Mini Jumping Challenge (MJC).
#Each leg of the challenge was held in a different country, allowing athletes to compete on their own horses over a pre-set jump course built to international specifications and contested at three different heights: Class A (0.50 metres), Class B (0.60 metres) and Class C (0.70 metres).
#The Bahamas joined the CEA in February 2022 and held its first MJC event in October 2022. The jumping rounds were judged on the concept of "Optimum time", designed to give riders an understanding of the correct speed at which a show jumping course should be ridden under international rules.
#The order of finish in each class was dictated by how closely the rider's time matched the "Optimum time" of the course.
#Under these conditions The Bahamas' Katerina Coello (riding TGIF of Mariposa Stables) was nearly perfect, finishing just 0.02 seconds off the optimum time and edging out Barbados' Kai Cook-Johnson by three-hundredths of a second, to be named the top scorer of the MJC.
#Besides posting the top individual score overall, Coello, aged 14, was also named the individual winner of Height Class C. Bahamian teammates Storm D'Arville and Ella Saidi were also named as finalists in that height class, finishing 4th and 6th respectively. While dominating the top-Class C, Team Bahamas fared less well in the lower height Classes A and B, with the result that overall, in the team competition, The Bahamas placed third behind Bermuda and Barbados.
#Equestrian Bahamas president Cathy Ramsingh- Pierre praised all the riders, and Coello in particular, for their excellent performances. "Katerina was fantastic, and Storm and Ella also had very strong rides," she said. "They have shown that we can hold our own with the rest of the region in equestrian sport.
#"We congratulate Katerina and commend all our riders for representing The Bahamas so superbly in our very first Mini Jumping Challenge."
http://www.tribune242.com/news/2023/jan/06/katerina-coello-wins-top-overall-individual-score-/?news