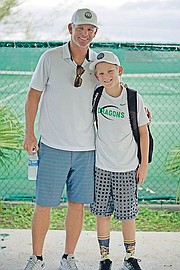 MARK Knowles and one of his sons, Brody, enjoy the Bahamas Lawn Tennis Association's ITF Goombay Splash Bowl at the National Tennis Centre. Photo: Terrel W Carey/Tribune staff
#By BRENT STUBBS
#Senior Sports Reporter
#bstubbs@tribunemedia.net
#HE was the Bahamas' premier tennis player, having enjoyed a 20-year span on the professional circuit where he captured three of the four doubles grand slam titles.
#But in the aftermath of his accomplishment that had him sitting on top of the world in doubles, Mark Knowles is now splitting his time with his family, television commentating and coaching.
#Over the weekend, Knowles, along with one of his sons Brody, took in the Bahamas Lawn Tennis Association's hosting of the International Tennis Federation's Goombay Splash Bowl for players under 18. He had a keen interest watching Sydney Clarke emerge as the female singles champion and Jacobi Bain as the male runner-up and doubles champion with New Zealand partner William Kesterson.
#All three players are a part of the Albany Tennis Academy in which Knowles serves as one of the principals in his Mark Knowles Foundation. He also offers his expertise there as a coach, assisting Grant Doyle, the head coach at the Albany Academy. "It's really special to be out there to watch the juniors compete. Jacobi and Sydney are both playing very well and I have been focusing a lot of my attention on trying to develop the next national champion," Knowles said.
#"We have a good training base at Albany where some of the kids are involved in, so it's good to be able to give something back. I'm helping to fund the kids like Jacobi and Sydney to allow them to go to Albany full time."
#A fundraiser is being planned for December 6 when Knowles is hoping that they can generate some more assistance for the other kids who are involved in a programme that allows them to train there at least 2-3 times a week.
#"This is a great group of kids and so it's very encouraging to be able to assist them," Knowles said. "It's been very exciting and rewarding so far. We had Jacobi and Sydney playing in their first ITF junior tournament final here at home this weekend." Although Bain fell short of winning the title, Knowles said the 15-year-old is "an incredible athlete."
#"He moves extremely well, especially in today's game where he faced a guy who moved so well," Knowles said.
#"I think he needs to be a little offensive with his forehand. But those are things that he can develop. He's a great kid. He's a kid who is completely devoted and he continue to get better."
#Clarke, who celebrated her 17th birthday by winning the girls' title, is the opposite of Bain.
#"She hits the ball so well," Knowles pointed out. "She has such a clean strike at the ball. That's a great thing to have on your side. Maybe getting her movement a little better is what e will have to work on.
#"But she has to develop that killer mentality that when you are up, you need to finish off your opponent and not allow them to get back into the match because it could become dangerous when you let players of a high level back into the match."
#With the two players coming into their own and the others in the BLTA junior programme, Knowles said the future looks bright for the Bahamas and he's eager to continue to make his contribution.
#"I've been doing a lot of commentary for tennis TV and I'm also concentrating on the champions initiative where we are focusing on developing the next Bahamian champion," Knowles said.
#"Now that I am too old, we need someone else to go out there and get the Davis Cup and Fed Cup teams to compete at a high level again. We have the talent and the youth to develop, so I'm looking forward to it."
#In addition to that, Knowles and his wife, Dawn, are rearing three children, Graham, 13 and 6-feet, 3-inches (a versatile basketball and baseball player as well as a football quarterback) Brody, 10 (who loves tennis the most) and Presley, 7, who play tennis and soccer.
#"It's been exciting watching them grow up," Knowles reflected. "They are playing some sports too, so it's just a matter of being there for them too. So it's been great.
#"We've never forced any sport on our kids, including tennis, but they are all very athletic. They love sports and I think I have tried to instill in them that sports in a great vehicle to life, even if you are not playing it professionally."
#Having had the opportunity to represent the Bahamas for about 14 years in Davis Cup competition where he compiled a 23/25 win-loss record in singles and 18-7 in doubles, Knowles said he would like to continue to work with the BLTA in producing the best team possible to carry on the legacy.
#"My goal is for us to formulate a team with guys like Justin Roberts, who is out there, and we have a good team in place right now," he said.
#"I would like to see us formulate and put together the best Davis Cup team possible and so we can get back to the heights that Roger (Smith), John (Antonas), John (Farrington) and myself had us in Zone One and even in the World Group regulation."
#As the only player with any ATP computer points, Roberts has expressed the concern of having to come home to compete in the BLTA's year ending Georgio Baldacci Invitational in December at the National Tennis Center.
#"That's always a sensitive thing. We've had issues with that before," said Knowles, who at one point had to deal with a similar issue.
#"I think I would like to be the intermediiary where I can maybe be the sounding platform for both sides. I understand his point. He's trying to do everything in his power to be the best player he can be. Ultimately, I think it's important to have requirements, but I think it's also important to be able to bend a little bit."
#At the end of the day, Knowles said it's all about fielding the best team possible and get on the court to win. He said he would like to ensure that the Bahamas puts its best team out there to compete at that level.
#Last year Knowles was coaching Milos Raonic, the 27-year-old who at the time was ranked at number seven in the world and was the first Canadian player to reach the Australian Open semifinal, French Open quarter-final and Wimbledon final.
#This year, he coached American Jack Sock, 26, who got to the third round of both the Australian Open and Wimbledon and the fourth round in the French and US Open.
#"When the schedule permits, I coach and mentor those guys," Knowles stated. "I enjoy coaching. I think I have a lot to provide to the up and coming players, having experienced the game for such a long time.
#"I played pretty much my entire life, so I want to help out wherever I can. I think that's the fun part. The toughest ting about coaching is the traveling, which I don't enjoy because you are limited to so many weeks. But I enjoy helping others."
#Some of that time, Knowles spent at Albany helping to coach Bahamian players like Bain, Clarke, Donte Armbrister, Michael Major Jr, Safaya Ferguson, Jackson McTaggart.
#"I think we can develop the next Bahamian champion," Knowles insisted. "The tennis world miss the Bahamas being prominent, not just at the Davis Cup stage, but on the world stage.
#"So it's important to me. I want to continue to develop these young kids and hopefully in the next 3-5 years, we will have a solid base again doer the Bahamas."
#Knowles, who sat at No.1 in the world in doubles on June 24, 2002, had a 13-year partnership with Canadian Daniel Nestor that resulted in the triumph in the 2002 Australian Open, 2004 US open and 2007 French Open.
#He also won the 2009 Wimbledon mixed doubles with Anna-Lena Gronefled of Germany.