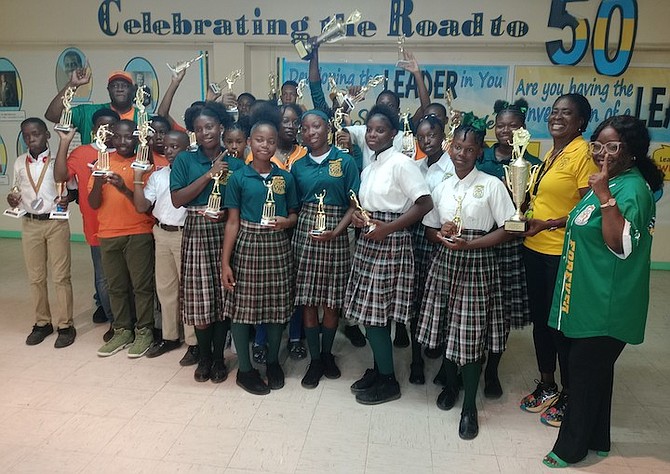 Coach Patrice Curry with her L W Young Golden Eagles' cross country top finishers.
As of Tuesday, November 14, 2023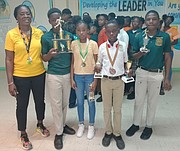 L W Young Golden Eagles celebrate their junior boys and girls titles in the GSSSA volleyball and cross country championships.
#By BRENT STUBBS
#Senior Sports Reporter
#bstubbs@tribunemedia.net
#IN a special ceremony yesterday morning, the faculty and staff of L W Young Junior High School celebrated its impressive performances from its Golden Eagles' boys and girls teams in the Government Secondary Schools Sports Association's volleyball championships.
#As the only school to place two teams in the championship series, the Golden Eagles boys' team soared to a 2-1 victory over the Anatol Rodgers Timberwolves on Friday at the Kendal Isaacs Gymnasium.
#The Golden Eagles' junior girls, however, fell short after they were swept 2-0 by the HO Nash Lions.
#Principal Deborah Thompson said they wanted to ensure that their student-athletes know that LW Young will continue to give them the accolades that they are due for their performances.
#"We appreciate them for all that they did," she said. "Too often, we only hear about the negativities, but we want them to know that we celebrate our champions whenever they are successful."
#Thompson added that although the girls didn't win the title, they wanted them to feel just as celebrated as the boys because they did a fantastic job in advancing to the championship just as the boys did.
#"That's is something to celebrate because no other school had two teams in the championship," Thompson stated. "We are very proud of both of our teams."
#Players from both teams were introduced individually during the school's assembly and after they ascended from the back of the room to the stage in the front, much to the cheers of the student-body, they received their trophies for their performances.
#Patrice Curry, the head of the physical education department at LW Young, said despite the girls falling short, she too was proud of their accomplishment.
#"It was a lot of hard work and determination and I think we gave it our best," Curry said. "We didn't win, but I am so very proud of them."
#Having spent the past six years at LW Young, Curry said they haven't had a celebration like this for their Golden Eagles' programme, so they are elated to have both teams in the championship at the same time. "Since 2018 when we won the bantam girls division in the GSSSA track and field championships, we haven't won anything. We've made the playoffs, but we haven't won anything until now," Curry said.
#"So this is a really great accomplishment, not just for the Golden Eagles' athletic department, but for the entire school population. They did extremely well and we are so glad to be able to celebrate them today."
#Boys' head coach Rashad Brice gave God all the praise for allowing him to find the "diamonds in the rough" and was able to refine them to secure the victory for LW Young.
#"My boys said to the principal that if they win the championship, they wanted a special assembly and to hear their names called one by one," he said.
#"All through the mid-term break, every break we had, Monday through Saturday, we were here preparing for this.
#"We just did what we do best. We focused on winning the championship and next year we want to come back and celebrate with another victory."
#If the Golden Eagles are successful, they will have to do it without two important pieces in Calvin Severe and Kendrick Miller, who are both graduating this year.
#Nonetheless, they both cherished the performances this year.
#"We worked hard for it, so we are very pleased to win it," said Severe, the tallest member of the team. "Last year, we lost, so it was good to come back and win it. We haven't won again in a long time, so it was good to get this one and to celebrate the way we did today."
#"I feel that we have it. It really was something when we won it in the third set," he started. "It feels so good."
#At the same time, four of their athletes were also recognised for their accomplishments in the GSSSA's Cross Country Championships that was staged on Saturday in front of the new Thomas A Robinson National Stadium.
#Honoured were Kaden Newbold, who was second in the under-13 boys' division, Jaynaz Pratt and Anilyah, who were third and fifth respectively in the under-13 girls, and Deontry Rave, third in the under-15 boys.