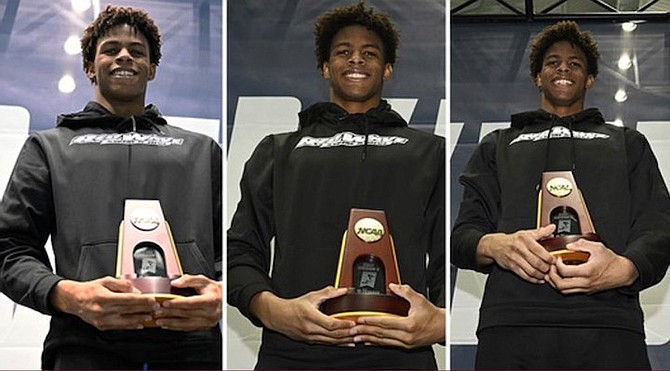 AN HISTORIC TRIPLE CROWN FEAT: Lamar Taylor displaying his three separate individual NCAA awards.
#By BRENT STUBBS
#Senior Sports Reporter
#bstubbs@tribunemedia.net
#It was an historic weekend for Lamar Taylor as he posted a hat trick in winning three national titles at the 2023 National Collegiate Athletic Association Men's & Women's Division II Swimming & Diving Championships.
#"It's honestly unbelievable to think that I am the first Bahamian," said Taylor of winning the unprecedented triple crown. "I hope I am setting a great example for the younger kids so they can be better than me."
#Competing at the Indiana University Natatorium in Indianapolis, Indiana, the 19-year-old Henderson State University Red Waves' junior wrapped up his third title on Saturday with his victory in the 100- yard free in 42.30 ahead of McKendree's senior Gregg Lichinsky, who did 42.37 for second.
#The victory came after he took the 100-yard in 45.95 with splits of 21.94 and 24.01 for his second crown on Friday as he finished well ahead of second place finisher Timothy Stollings, a senior at Findley, in 46.34.
#Henderson opened up with a victory in the men's 50-yard freestyle in a time of 19.04 seconds with impressive 25-yard splits of 9.21 and 9.83 respectively.
#"I am very satisfied with my performance. It honestly was more than I expected," Taylor continued. "I knew I had a great start to win the 50, but I didn't expect to win the 100 free and back."
#Of all three victories, Taylor said he will cherish the 100 back a little more than the others for sentimental reasons.
#"It was fun to swim against my friend Timothy Stollings. I met him in my freshman year and he has always been a good friend to me ever since," Taylor said. "But overall, my performances were all spectacular and way more than I or anyone expected."
#Bahamas Aquatics' president Algernon Cargill was quite impressed with the performances from Taylor as he surpasses the list of NCAA champions with his triple feat.
#"Lamar's outstanding performance is a testimony that there are no limits for not only him, but all swimmers that want to work hard and set dreams to achieve greatness," Cargill said.
#"Lamar now joins Arianna Vanderpool-Wallace as Bahamians with NCAA individual titles and he is the only swimmer to win three titles in the same championships.
#"He is determined to compete with the big boys in long course metres as he now shifts his focus to qualifying for Paris 2024."
#Paris 2024 is the next Olympic Games, but Taylor already made his international debut when he made the team that represented the Bahamas at the Commonwealth Games last year in Birmingham, England.
#Taylor said with his season over and done, he will take some time off before he starts to prepare for the long course and a shot at the World Championships later this summer where he intends to make another splash.
http://www.tribune242.com/news/2023/mar/13/lamar-makes-history-first-bahamian-swimmer-win-nca/